Turkey Shepard's Pie (Dairy-Free)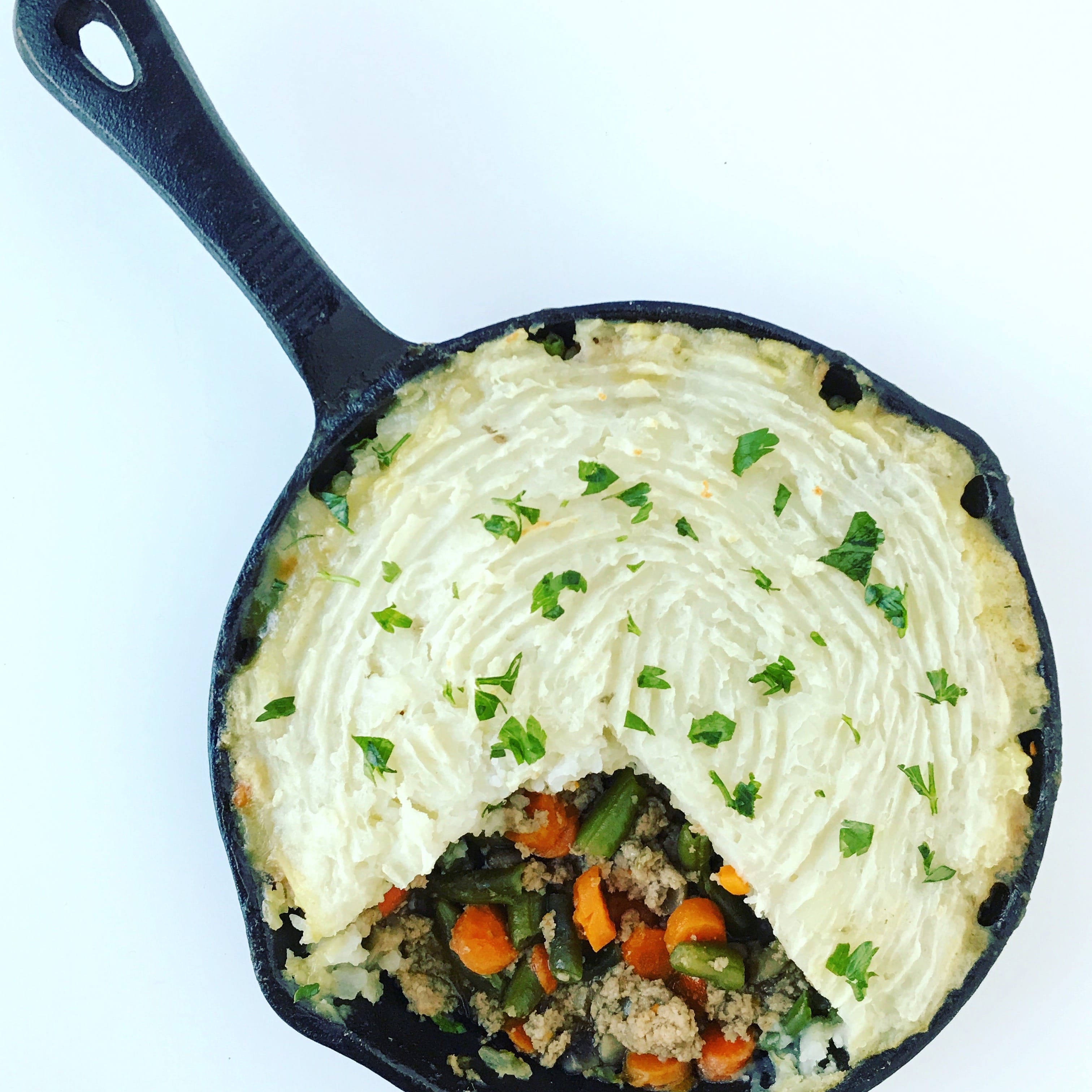 Turkey Shepard's Pie (Dairy-Free)
This Turkey Shepard's Pie is a spin on the classic comfort food, with a dairy-free twist. It's the perfect meal to add to your weekly menu if you are in search of a recipe that is delicious, healthy, and adaptable.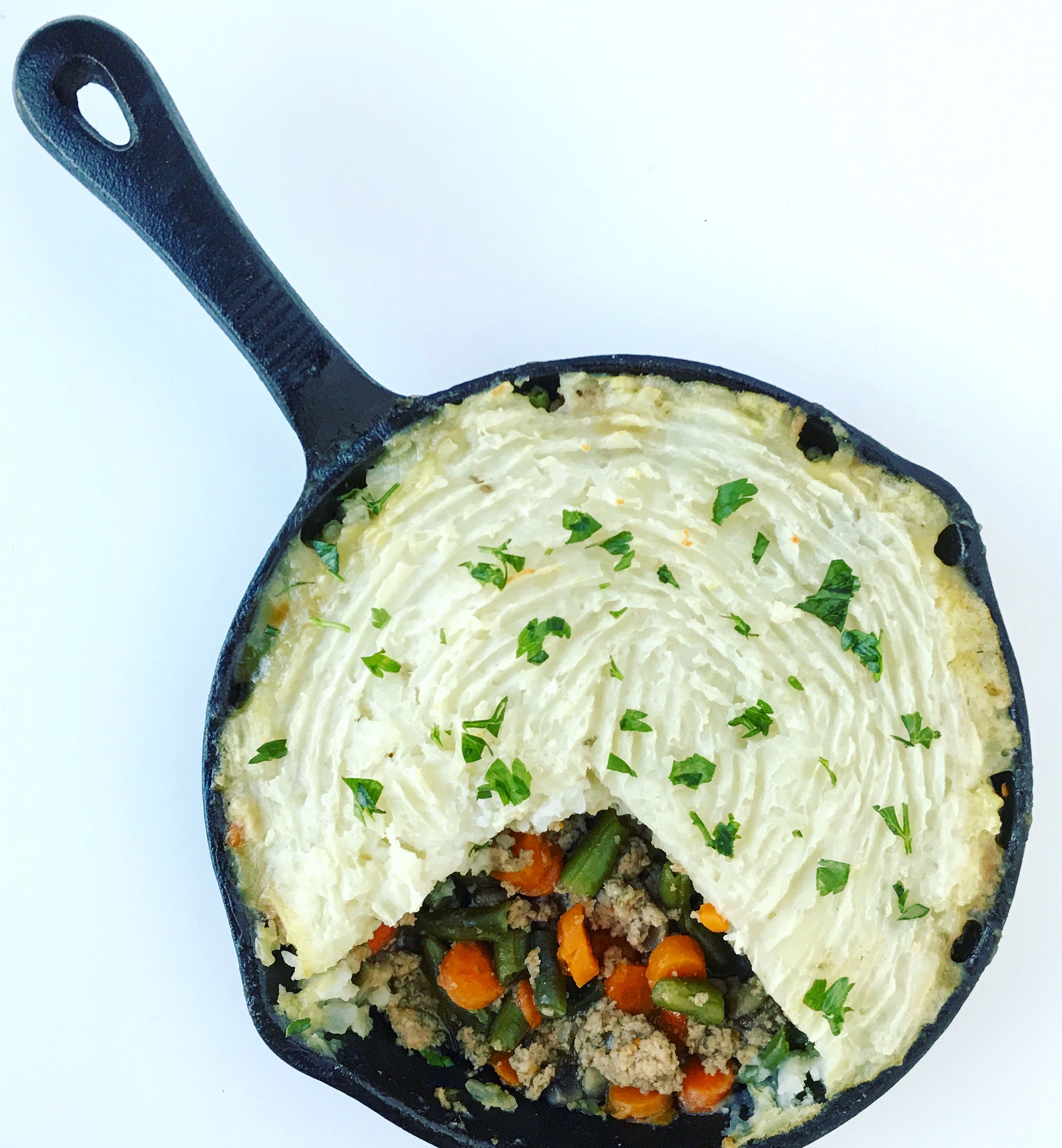 Having to change your diet to reduce acid reflux symptoms is difficult on its own, but if you throw not being able to tolerate things like dairy or gluten into the mix, that can make figuring out meals extra challenging. So, be sure to check out more of my gluten-free and dairy-free recipes, like this Skillet Meatballs in Mushroom Gravy or Zucchini-Watercress Soup for inspiration!
Ingredients
1/3 cup chicken broth (or more as needed)

1/2 lb of ground turkey

1 1/2 cups of sliced carrots

1 1/2 cups of green beans

1 cup of diced mushrooms

6 potatoes (peeled and chopped)

2 tsp of arrowroot flour
1/4 cup of unsweetened plant-based milk

fresh parsley

salt to taste
 Add 1/4 cup of chicken or vegetable broth to a cast iron skillet (I used a 9-inch skillet) and let the broth heat up over medium-high heat. Add sliced carrots and green beans. Sauté veggies for 3-4 minutes and add more broth if needed.

 Add ground turkey to skillet and cook on medium until browned. Halfway through cooking, add diced mushrooms. Season with salt or other GERD-friendly herbs if desired.

 Bring water in a pot to a boil and add potatoes. Preheat oven to 350 F.

 Combine 2 tsp of arrowroot powder in a small mixing bowl with 4 tbsp of water to make a slurry. Bring skillet to a simmer and add slurry to it once the meat is cooked through. Combine then let it cook for 1 minute and remove from heat. Add more broth or water if needed.

 Once the potatoes are done cooking (after 15 or so minutes) drain and add back to the pot, along with milk, and salt to taste. Mash the potatoes and spoon them on top of skillet. Set skillet on top of a baking sheet (in case spills out the sides) and bake for 15-20 minutes. Top with fresh parsley for extra deliciousness.
Notes:
I used a 9-inch cast iron skillet, so you may need to adjust the ingredient amounts if you are using a different-sized skillet or a baking dish. This recipe is adaptable, so swap out white potatoes for mashed sweet potatoes, cauliflower, or rutabaga for an option lower in carbs, include different veggies, or use ground chicken instead of turkey if preferred.
We are a participant in the Amazon Services LLC Associates Program, an affiliate advertising program designed to provide a means for us to earn fees by linking to Amazon.com and affiliated sites
---
---