Best Low Acid Coffee K cups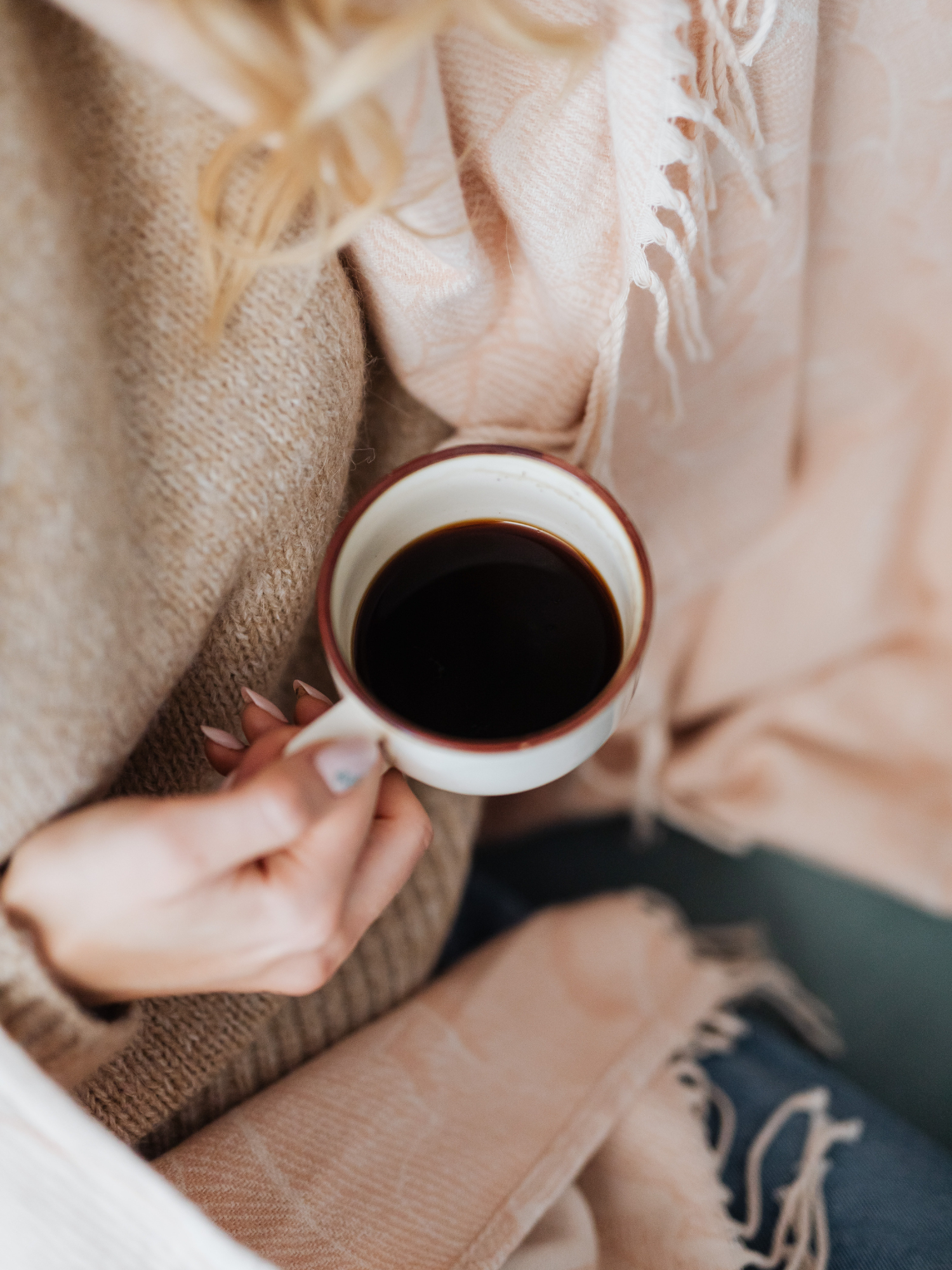 Is there anything better than waking up and having a rich, fragrant cup of coffee? For many of us, it's one of life's small joys that can make an early morning just a bit easier. Unfortunately, for some people that delicious brew can cause acid reflux, GERD, and other digestive issues. Before you give up on coffee altogether, check out our list of the best low-acid coffee K-cups.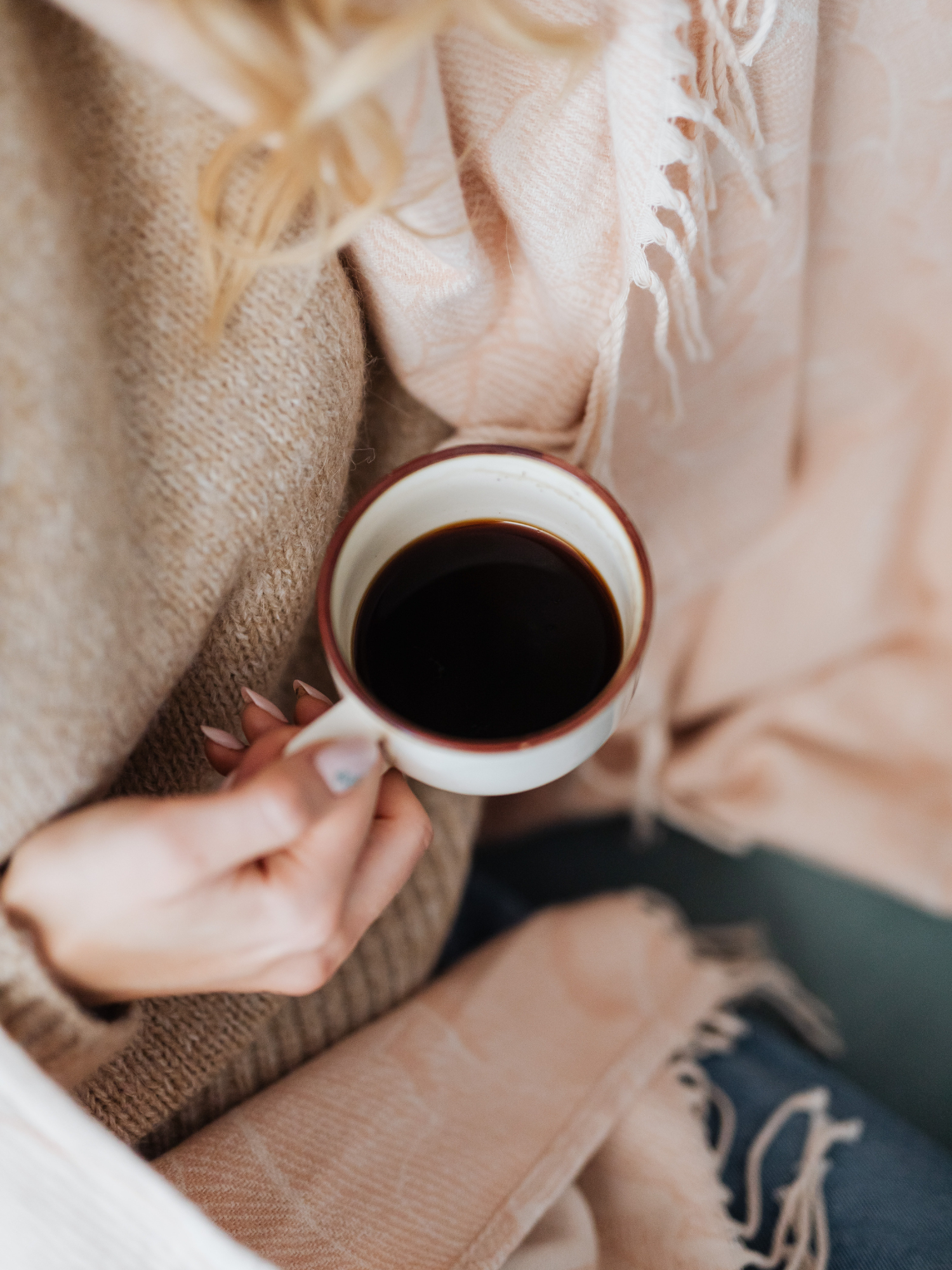 Why Does Coffee Cause Reflux?
We've written about some of the main causes of reflux before, but to summarize: some food and drinks can trigger stomach acid to back up into the lower part of the esophagus and lead to the feeling we know as "heartburn".
Two common factors are food or drinks that are acidic or have caffeine in them. Uh-oh, guess what favorite hot beverage is both acidic and caffeinated? Thankfully, some coffee companies have recognized this issue and done the work to bring you coffees that taste great and are easier on the stomach. 
Find more tips by reading "5 Coffee Hacks for Reflux Sufferers".
Why Low Acid K-cups?
Statistics show that almost 40% of households are using single-brew coffee makers like our favorite Keurig. The pods of coffee that are used in these machines have come to be known as K-cups and they are more popular than ever.
Convenient and efficient, if you're a K-cup user, you know how simple it is to have a delicious cup without the hassle of grinding beans or measuring grounds and water.  
Best Low Acid Coffee K-Cups Testing Method
We had a panel of testers taste each one of the 5 brews we selected. Each cup was rated on Fragrance, Flavor, Aftertaste, Acidity, and Mouthfeel.
Unfortunately, it's difficult to test whether a coffee is likely to cause heartburn or not, but we did note that none of the testers experienced any reflux after the testing.
Here are the best low-acid coffee K-cups we tested:
Overall  Best Low Acid Coffee K Cups
We found these coffee's to be a nice selection of different flavors and tasting notes. While you may not like each one equally, we think you'll find something here that meets your tastes while keeping your stomach happy.
Here Are The Best Low-Acid Coffee K-cups That Deliver: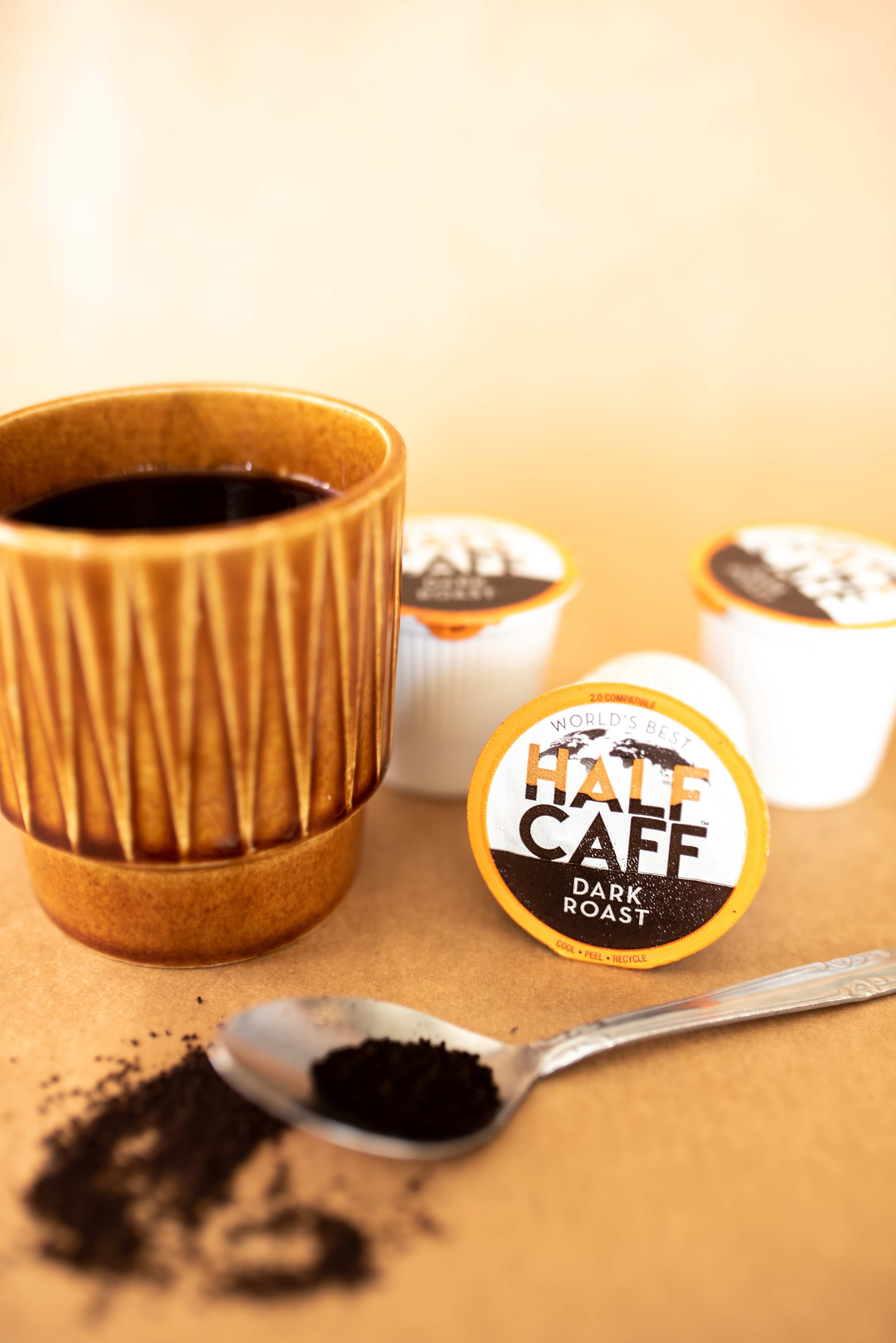 A favorite among the majority of testers, this is just a really nice cup of coffee. As we mentioned, caffeine can be a significant reflux trigger for some people, so half the caffeine, in theory, leads to half the risk of heartburn. 
Made by Maud's Coffee and Tea, which specializes in single-serve coffee pods, this dark roast is perfected by a 5th generation Roastmaster and delivered in recyclable cups. 
Taster's notes:
Our panel described this brew as " full of flavor with a chocolatey aroma, a clean aftertaste, and smooth mouthfeel. By far one of the most aromatic cups of the testing".
Check "World's Best Half Caff" price on Amazon
Bold and smooth, this dark roast is comprised of organic 100% Arabica beans. Sourced from Guatemala, the roasting process is overseen by a dietitian to ensure the PH balance is appropriate.
Taster's notes:
Our panel described this brew as having "intense flavors with a woody aroma. A slight sourness like tart cherries was noted." 
Check "VitaCup" price on Amazon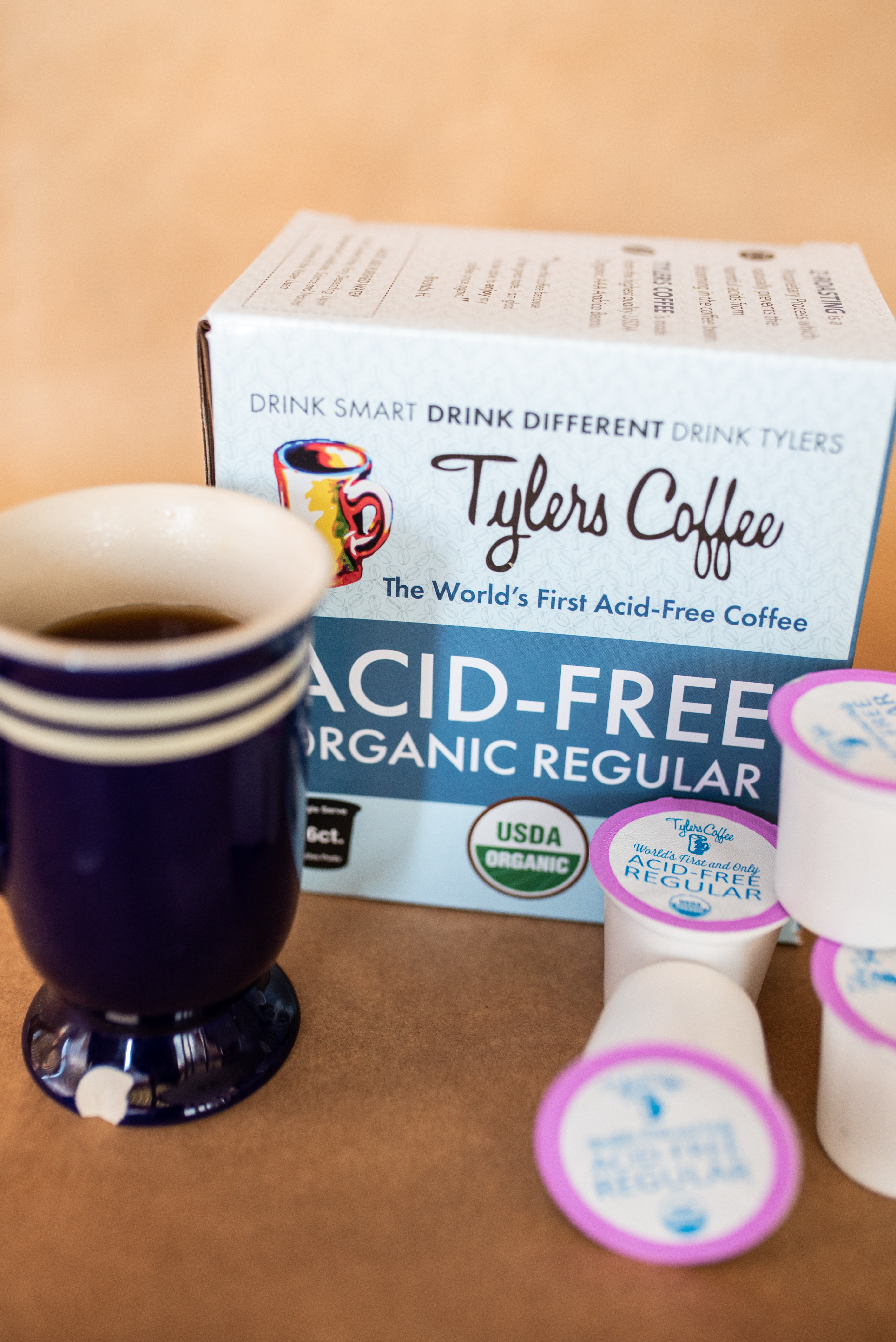 Tyler's Coffee is built around the idea of creating a great cup of coffee for those with acid reflux. The founder set off on that mission after his father had to stop drinking coffee due to reflux issues. Using organic Arabica beans, they employ a proprietary process they call "Z-Roasting", to deliver a low-acid coffee.
Taster's notes:
Our panel described this as "delicate with a woody aroma and notes of fruit. This may not have enough flavor for some coffee drinkers, but if you like a subtle brew, more in keeping with a blonde roast, this is a good fit".
Check "Tyler's" price on Amazon
Puroast has an amazing story of developing this blend. They were simply trying to roast a great cup of coffee but kept getting reviews from people surprised that drinking it did not cause their usual reflux. A researcher from a local university tested the blend and published results stating that this medium roast is 70% less acidic than other brands. They also claim that it has 7x the antioxidants of green tea!
Taster's notes:
Our panel described this brew as "A balanced, sweet flavor with mild acidity and a smooth mouthfeel. As a medium roast, it lacks some of the rich flavors that some prefer, but the delicate sweetness is appealing".
Check "Puroast" price on Amazon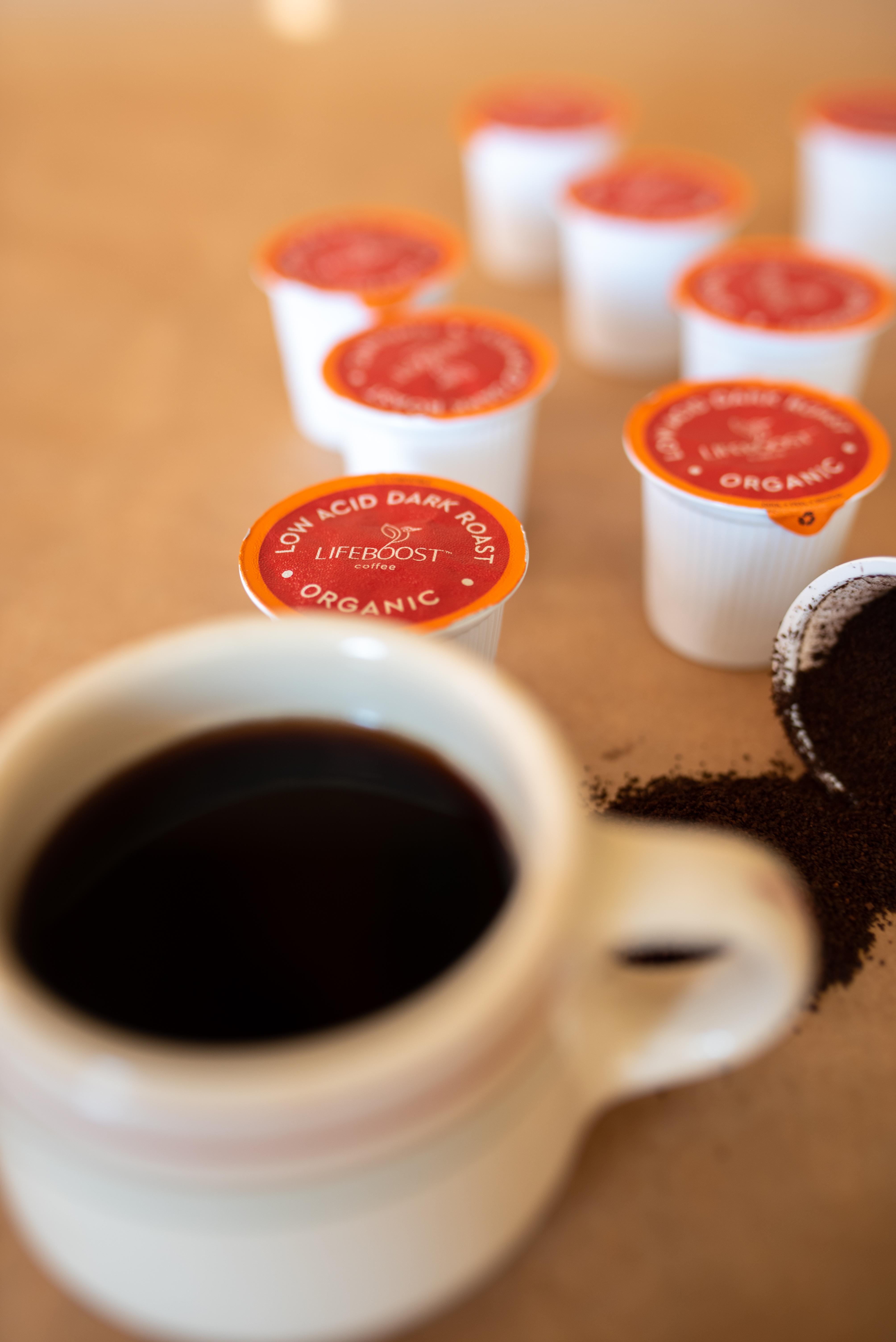 This was another panel favorite! Organic, Central American beans are sun-dried and then dark-roasted. Coming in at a neutral PH of 6, each batch is third-party tested for mold, pesticide, and heavy metals. This is a great tasting coffee that you can feel great about drinking.
Taster's notes:
"A chocolatey, earthy aroma, full vibrant flavor, and rich mouthfeel make this a really enjoyable cup of coffee. Delicious with oat milk or your favorite creamer".
Check "Lifeboost" price on Amazon
A Few Notes About Low Acid Coffee K-cups:
Price
How does the price of these k-cups stack up against other options? With prices ranging from .62 to $1.75 per cup for the brands we reviewed, k-cups are a more expensive option than buying bagged coffee and brewing it conventionally. However, they're drastically less money than buying from a coffee shop. This benefit plus the convenience and efficiency of single-cup brewing make k-cups a great option.
Recycle your K-Cups
Did you know that most k-cups are recyclable? Some are even made of post-consumer content, which is fantastic, but even if they're not, you can still do your part by recycling. It's simple, just tear off the foil cover and dispose, then pour the used grounds out. These can easily be composted if you're already doing that. Then, pop the remaining cup into your recycle bin and you're done. Easy!
Reusable k-cups
This is another great option to reduce waste and a bit of cost. You can buy your own reusable k-cup and then buy bags of low-acid coffee. Just fill the cup with a few tablespoons of grounds and brew just like normal.
Here are some links to bags of low-acid coffee:
Alex's Organic Low Acid Haff Caff
Tyler's No Acid Organic Ground Coffee
Lifeboost Single Origin Organic Coffee
Try them for yourself!
If regular coffees have been wreaking havoc on your stomach, don't give up! These brands have hundreds of reviews from raving fans that love the low-acid options.
If you've been considering giving up on coffee altogether, try one of these best low-acid coffee K-cups and see if they work for you!
If you do give one a try, come back and leave a comment. It's so so helpful to us and all the readers here at the GERD Chef.

Looking for more helpful resources? Try these…
Top 5 Supplements for GERD and Acid Reflux
5 Foods That Can Trigger Acid Reflux
Check out our tasty low-acid recipes!
---
---