Easy Healthy Acid Reflux Friendly Dinner Ideas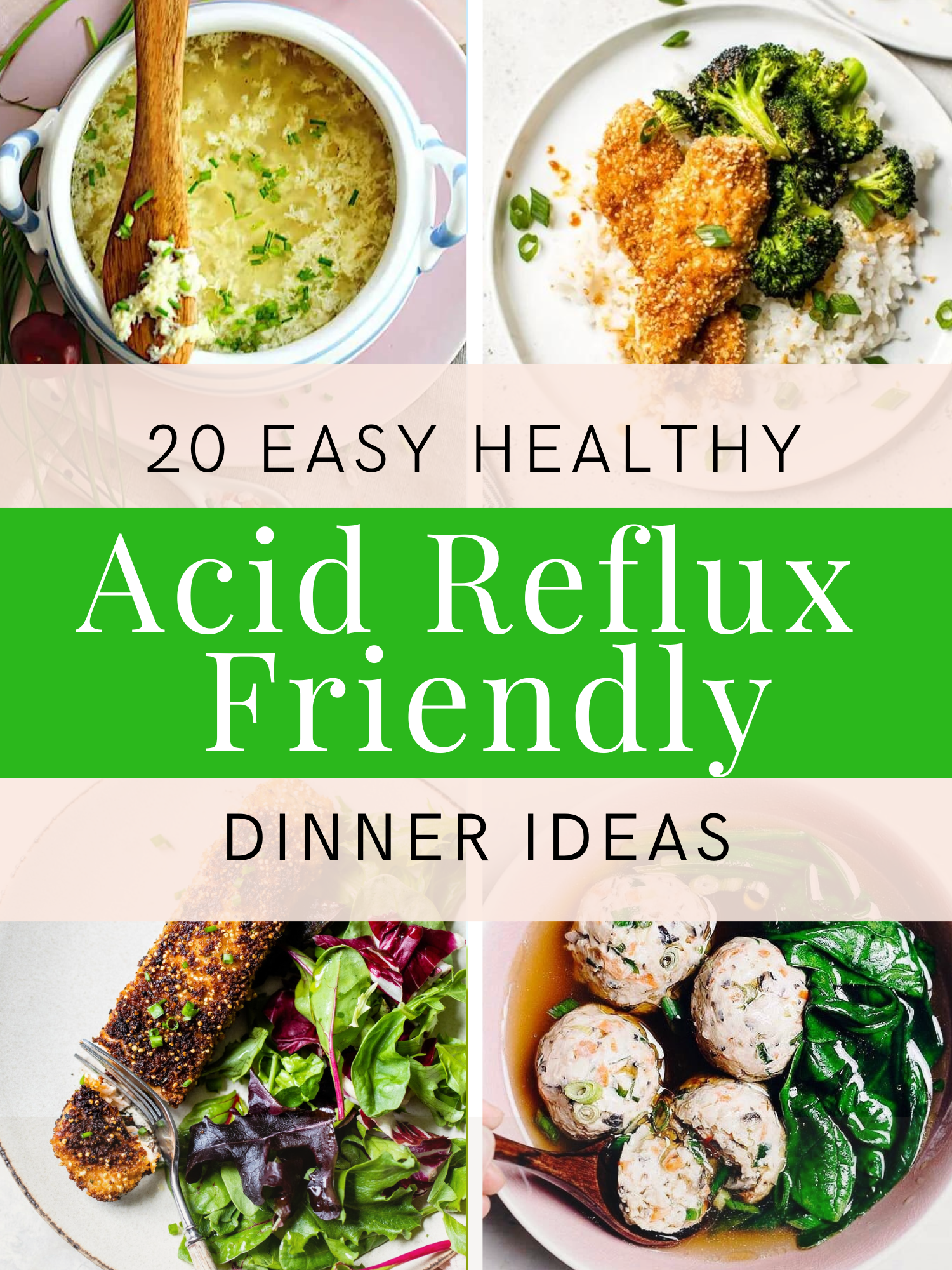 These easy healthy acid reflux-friendly dinner ideas will help you plan ahead for weeknight meals that are both nutritious and don't trigger GERD symptoms.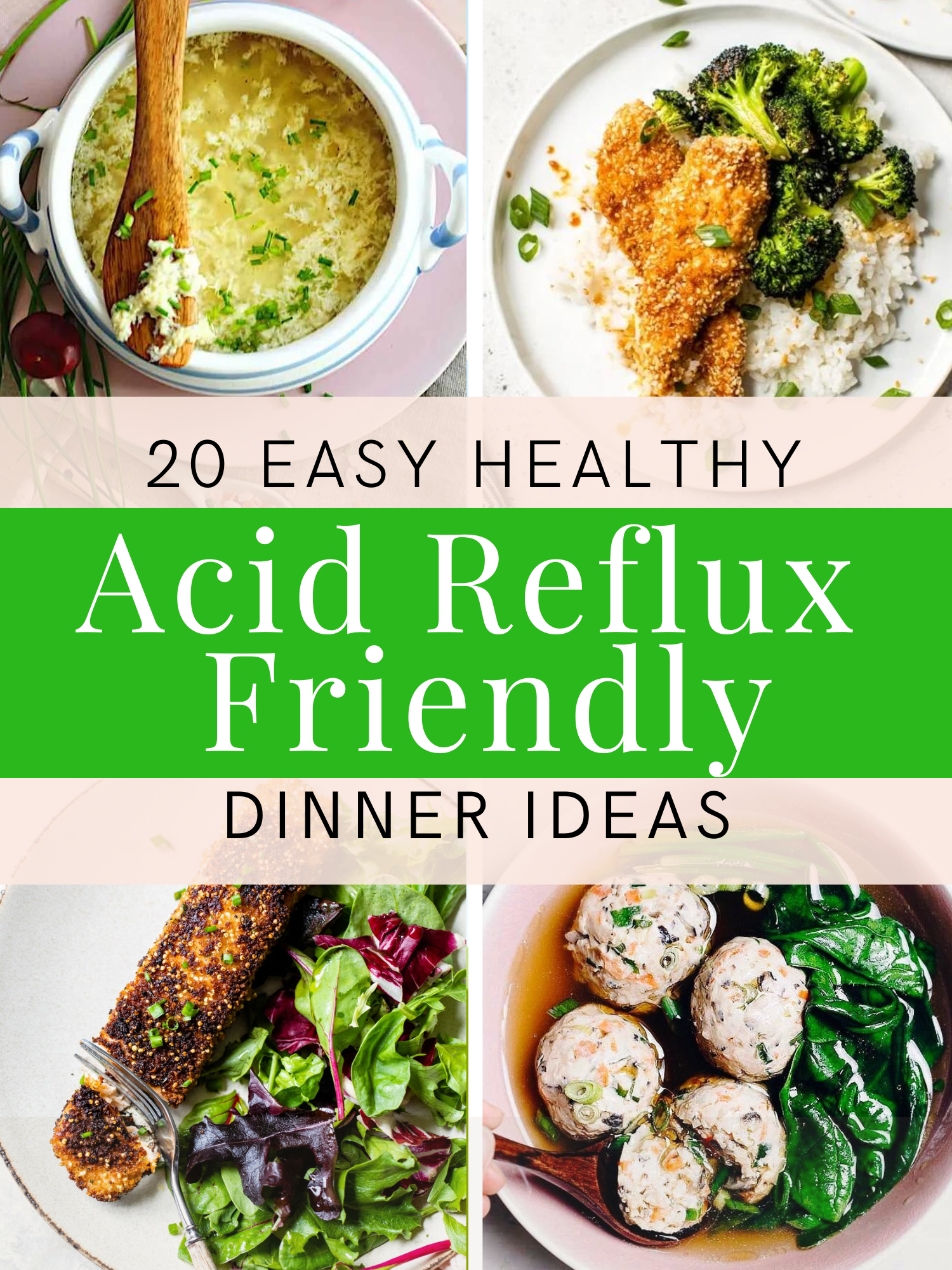 Changing your diet is one of the most important parts of treating GERD. And feeling lost after being diagnosed while attempting to navigate through this new way of eating is completely normal. These easy healthy acid reflux-friendly dinner ideas can help you on your journey.
Planning ahead and having a rotation of easy healthy acid reflux-friendly dinner ideas can eliminate the stress and anxiety of these diet changes. This makes it so much easier to stick to a lifestyle of eating that offers actual healing.
Foods to Include and Avoid in These Easy Healthy Acid Reflux Friendly Dinner Ideas
I've had this post planned for a while, I thought it would be such an incredible resource for all of us here to have one post we can go to for quick and easy acid reflux-friendly dinner meal planning.
But, as I began searching for recipes I was shocked to realize just how difficult it is to find true GERD-friendly recipes! It made me even more aware of just how important this space truly is.
I did my best to find a variety of easy healthy acid reflux-friendly dinner ideas, that focus on the best foods for GERD symptoms, taking care to avoid the most common triggers as much as possible.
The best foods for soothing acid reflux symptoms include lean meats and seafood, leafy greens, low carb veggies, healthy fats, non-citrus fruits, and herbal tea.
The most common triggers for acid reflux include greasy foods, tomatoes, chocolate, citrus fruits, spicy foods, mint, caffeine, alcohol, and carbonated beverages.
I've put together a free printable reference with the foods I include and the ones I avoid for acid reflux. This can be a great resource to keep in the kitchen as you plan your weekly easy healthy acid reflux friendly dinners.
Download your FREE printable acid reflux foods to avoid and include list
Lifestyle Tips to Help Further Reduce Acid Reflux
Along with diet changes, there are a number of things you can modify in your daily life to further help reduce acid reflux symptoms.
Eat Slowly: It's easy to get carried away and rush through eating. However, our mouth is where digestion begins. Our food mixes with our saliva which contains digestive enzymes that begin to break food down. By chewing our food properly (especially for those with digestive issues) we are doing our bodies a huge service.
Eat Smaller Meals: Rather than eating 3 big meals during the day, try eating 5 smaller ones. Do your best not to lie down until at least 3-4 hours after eating and then sleep inclined.
Sleep Inclined: Studies show that sleeping inclined can greatly reduce symptoms for those with acid reflux and/or a hiatal hernia, sleeping with a wedge pillow not only elevates the head but the upper torso of the body as well. Some other options for sleeping inclined are raising the head of your bed 6-8 inches with risers, using  inclined bed risers, or an adjustable mattress.  
Stress Management for Acid Reflux
While stress isn't usually the cause of GERD it can certainly exacerbate symptoms. Studies show that stress and GERD are strongly associated with each other. Ever notice how when you are having bad anxiety, a flare-up isn't too far behind?
I know everyone's version of self-care look different, but below I've listed some things that I do to cope with anxiety and stress:
Yoga

Diaphragmatic Breathing

Being in Nature

Journaling

Learn Something New

Herbal Tea

Meditation
Easy Healthy Acid Reflux-Friendly Dinner Ideas
Please note: Onions and garlic are almost always foods to avoid for anyone dealing with acid reflux, but it's really difficult to find easy healthy dinner recipes without one or both of these ingredients, especially garlic.
I've done my best to limit them, but you'll see them pop up occasionally. If garlic and onion are triggers for you, I recommend substituting garlic powder and onion powder or leaving them out entirely.
There isn't a one-size-fits-all diet for acid reflux, so try not to get discouraged if something that I've listed here bothers you. We are all unique in what we can tolerate. You know your body the best, so follow your gut!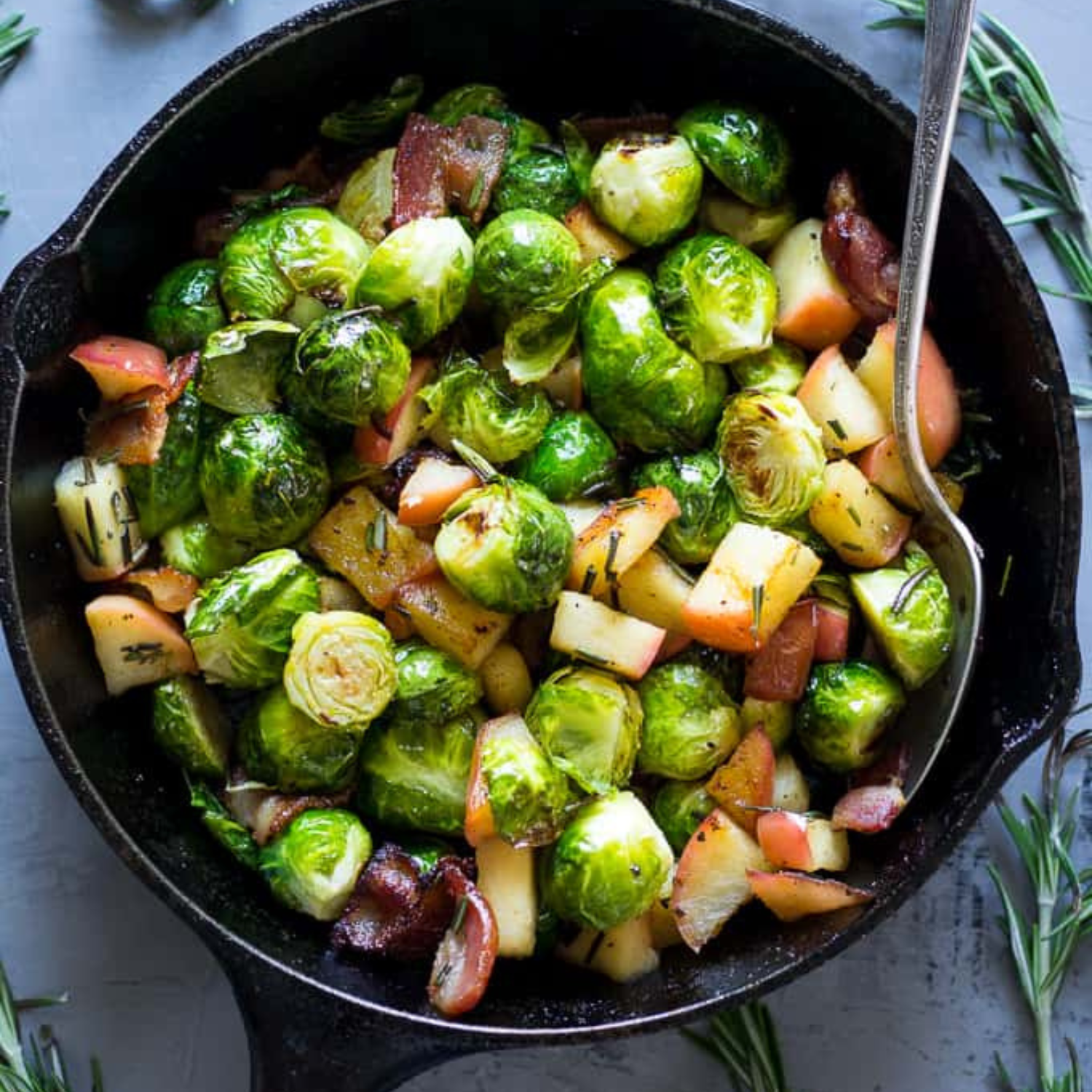 1.Roasted Brussel Sprouts with Bacon and Apples
What makes these Roasted Brussel Sprouts with Bacon and Apples by Paleo Running Momma so perfect is how easy it is to make!  The brussel sprouts go from raw to perfectly roasted FAST while the bacon and apples cook up even quicker on the stovetop. It's so easy to add extra protein by serving it alongside some baked chicken or my favorite turkey meatballs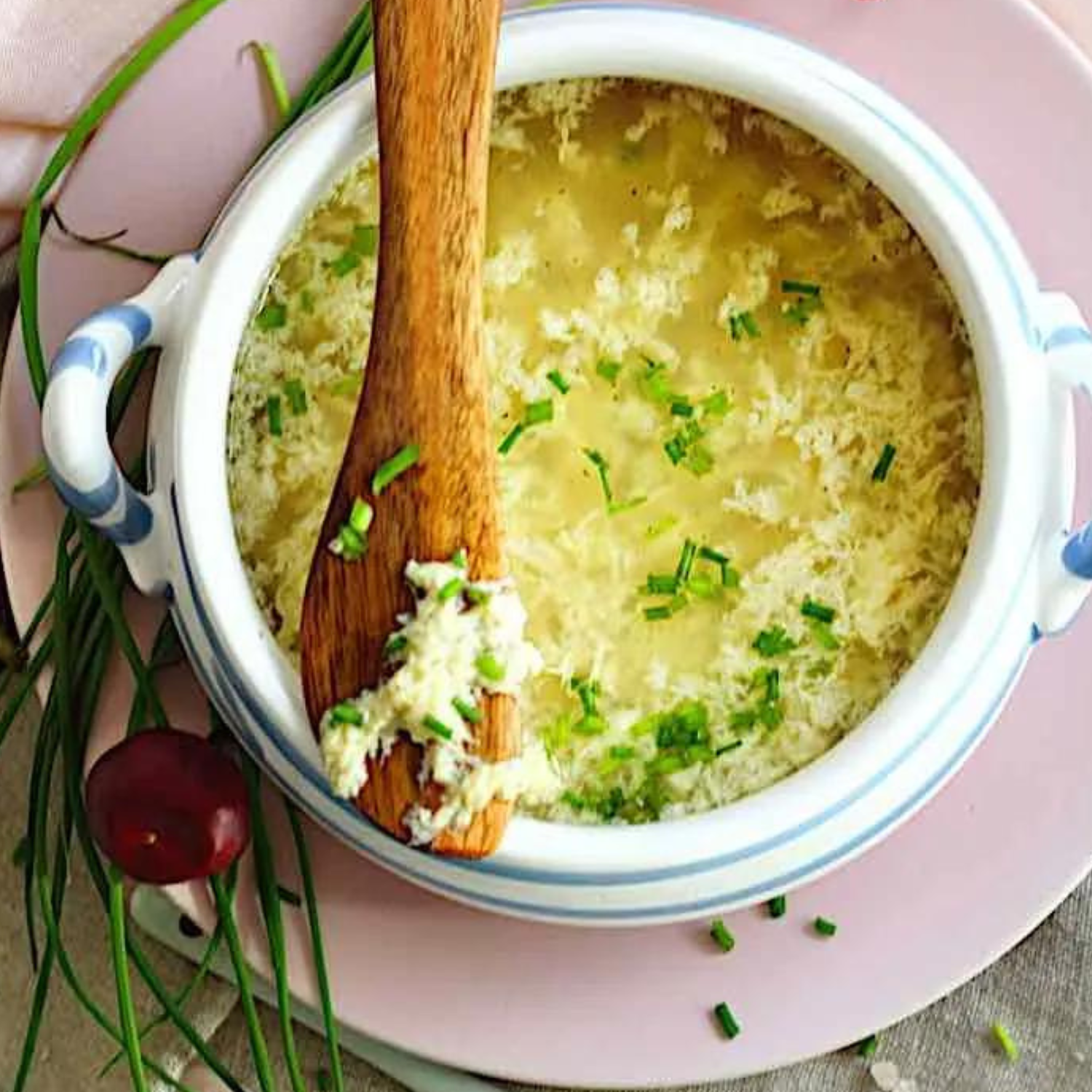 2.

Quick and Easy Keto Egg Drop Soup Recipe
This Quick and Easy Reflux Friendly Keto Egg Drop Soup Recipe by Zuzana at Low Carb-No Carb is done in seconds and is made with only a few ingredients you probably already have on hand. It's a warm comforting, protein filled dinner that is easily customized and endlessly versatile. An excellent option when you want to give your stomach a break from heavy food.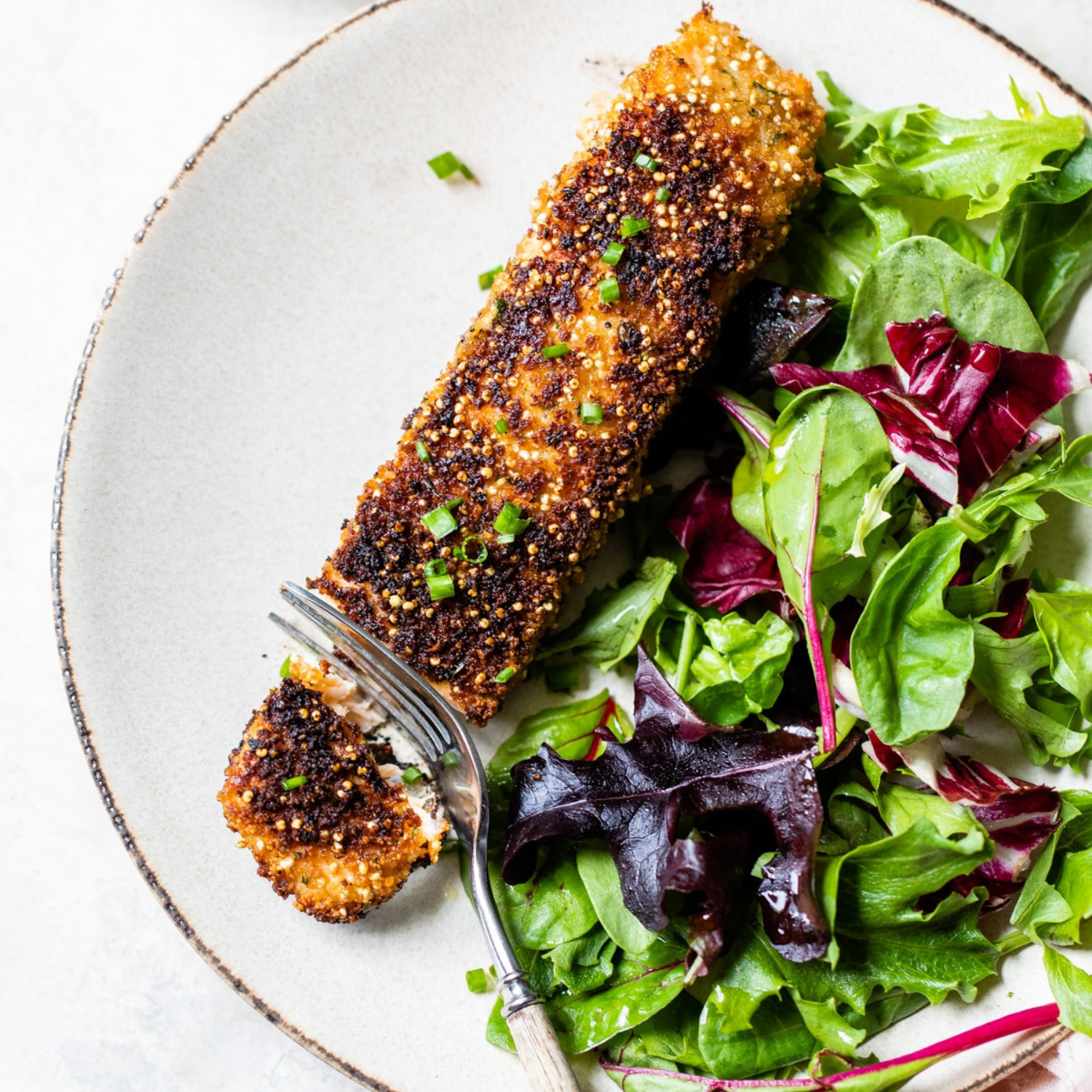 3. Quinoa Crusted Salmon
Erin at The Almond Eater created this Quinoa Encrusted Salmon that is so delicious. She uses quinoa and breadcrumbs for added texture, flavor, and nutrition and it pairs beautifully with a side salad topped with our low-acid creamy salad dressing. It's packed with flavor and ready in under 20 minutes, making it an ideal easy healthy reflux friendly dinner idea!
4. Herbed Potato, Asparagus, and Chickpea Sheet Pan Dinner
This vegan Sheet Pan Dinner from The Simple Veganista with herbed potato, asparagus, and chickpeas are roasted to perfection and perfectly easy, and full of flavor! One pan, a few fresh vegetables, dried herbs, and spices, oven roasted together, creates a hearty vegan meal I know you're going to love! I would omit the onions and any spices that may trigger your reflux. If you wanted to add some extra protein here is my recipe for simple baked chicken breast.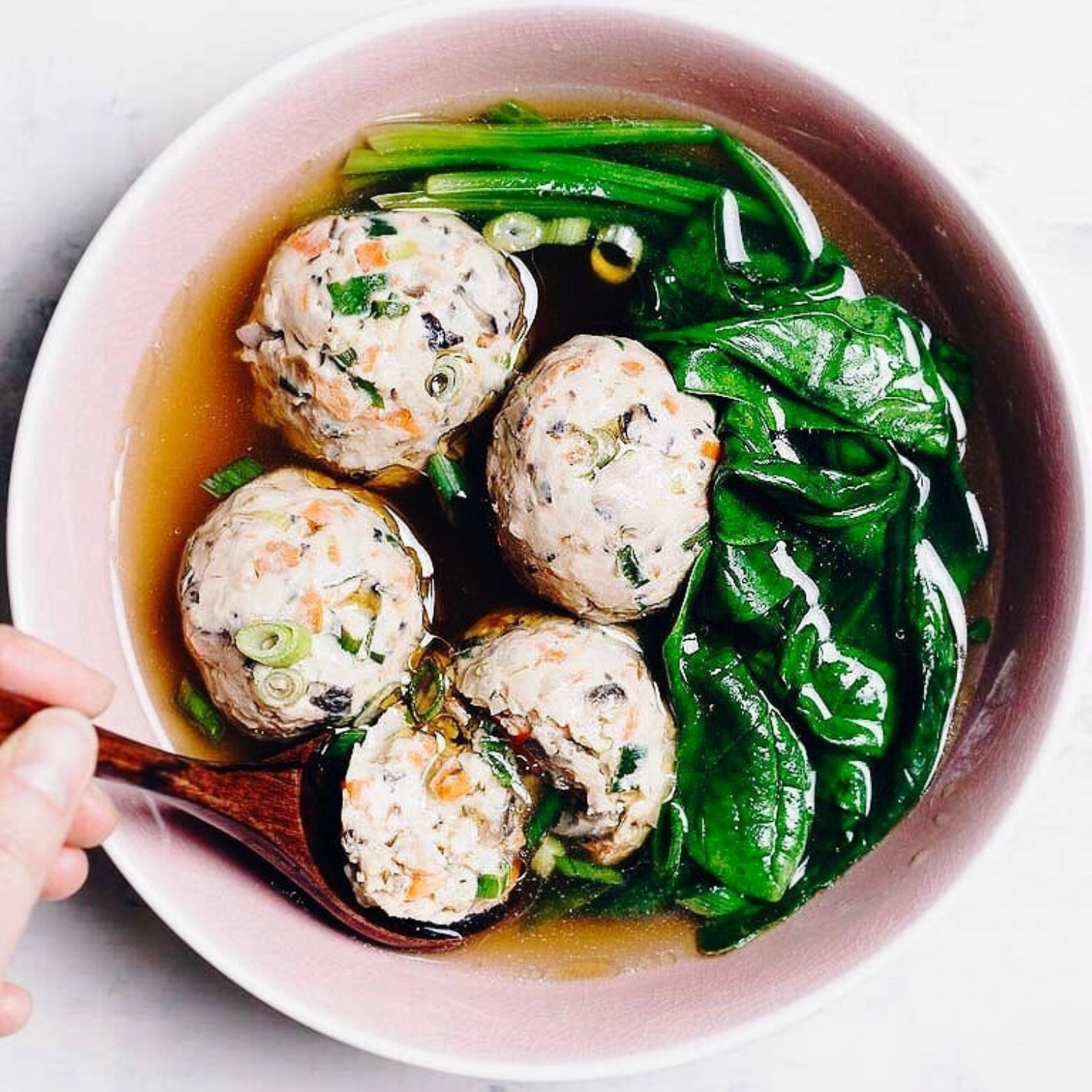 5. Asian Chicken Meatball Soup with Spinach
This Asian Chicken Meatball Soup with Spinach from Chihyu at I Heart Umami is a one-pot wonder of crunchy colorful vegetables, simmered in Asian ginger chicken broth. The chicken meatballs add an incredible flavor and texture as well. This soup is ridiculously good and easy. It's GERD-friendly, paleo, low-carb, and whole 30. Trust me, everyone will demand you make it again and again!
6. Maple BBQ Salmon with Brown Butter Couscous
This Maple BBQ Salmon with Brown Butter Couscous from Jessica at How Sweet Eats is a quick and delicious weeknight meal. There will probably be some adjustments that will need to happen to make this recipe work for everyone, but I'm confident you can adapt it to fit your needs. I have a few members of my family who are dairy free, so I used plant butter and excluded the garlic and the couscous was still just so good.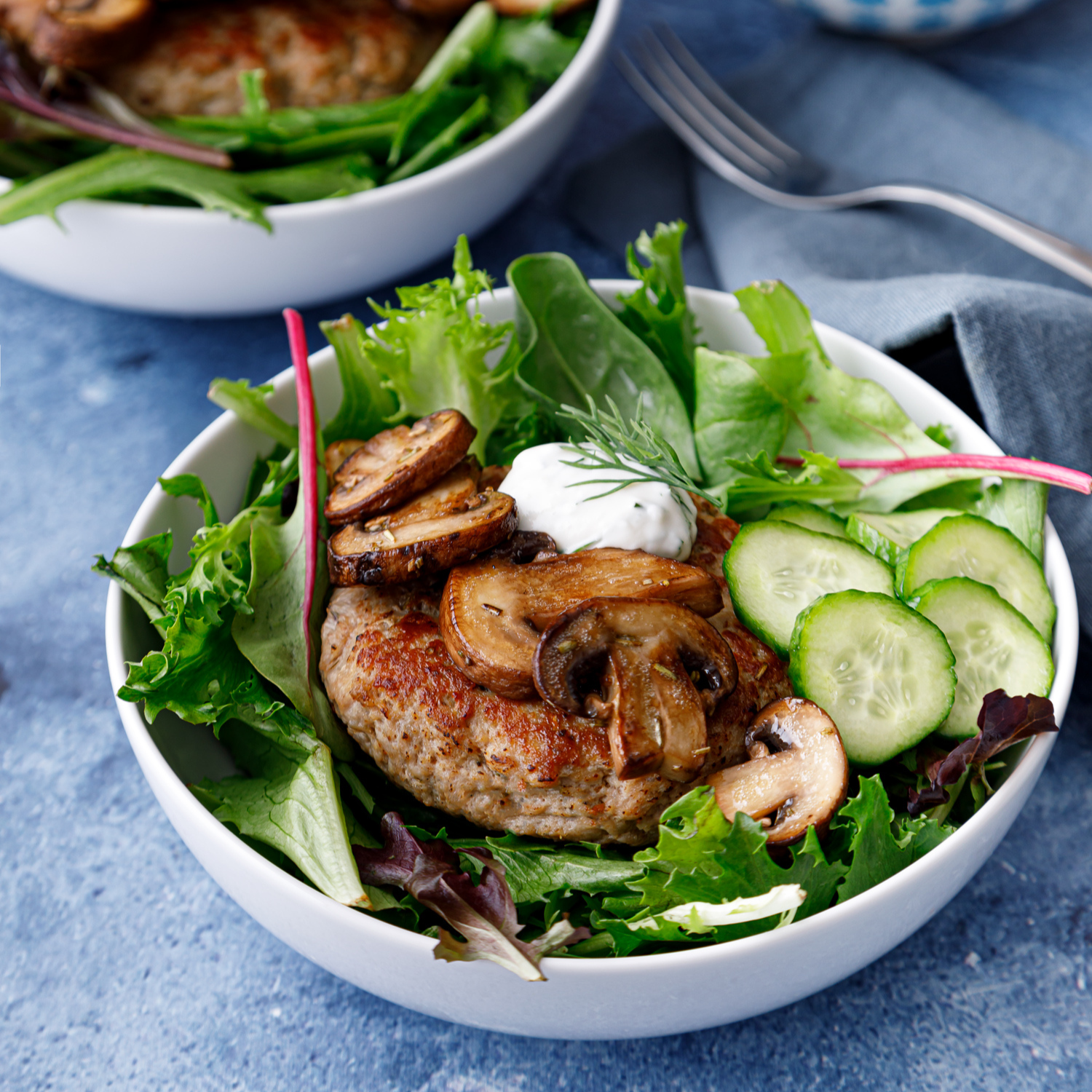 7. Deconstructed Burger Bowls
These Mediterranean-inspired Deconstructed Burger Bowls by us here at The GERD Chef are perfect for an easy healthy reflux-friendly dinner. (I've already made them twice this week) The homemade tzatziki sauce combined with the DIY quick pickle, fresh greens, and sauteed mushrooms… It's a taste of the Mediterranean in every bite! Plus, this satisfying burger bowl is gluten-free, dairy-free, low-fat, and low-carb.
8. Sheet Pan Pork Chops with Potato and Broccoli
Looking for a complete meal without the time commitment? Let these Sheet Pan Pork Chops with Potatoes and Broccoli from Creme de la Crumb come to your rescue! All you need is 1 pan and a few easy ingredients and in just 40 minutes dinner is done!  Remember, you know your body the best, so follow your gut and adjust spices accordingly.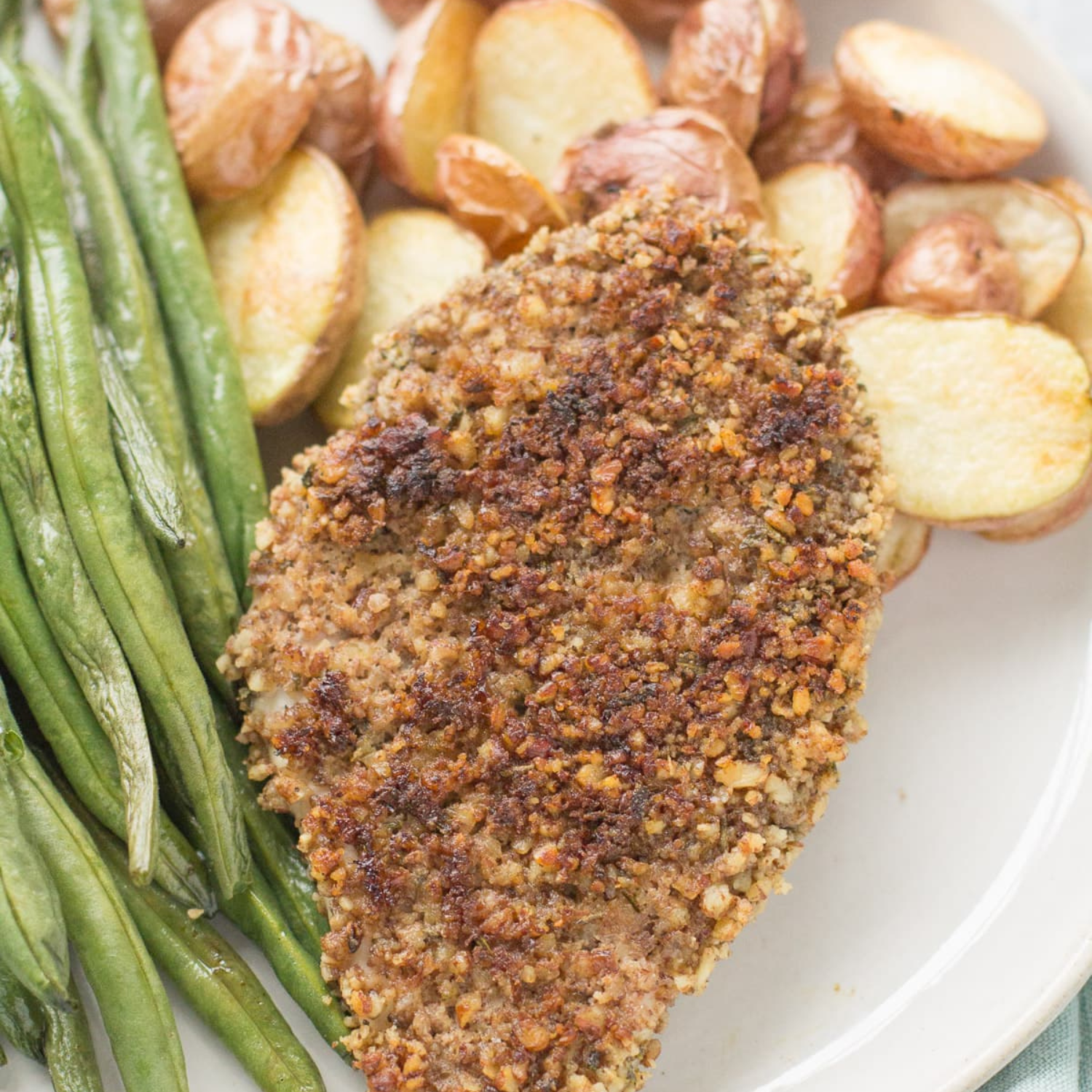 9. Pecan Crusted Chicken
This Pecan Crusted Chicken from The Clean Eating Couple is everything you could ever want in a dinner. Perfectly crunchy, jam packed with flavor, done in under 30 minutes, and they are gluten/grain free + Whole 30 and GERD friendly. Would be perfect with our Baked Potato for Acid Reflux and drizzled with our Tomato Free Low Acid BBQ Sauce. Yum!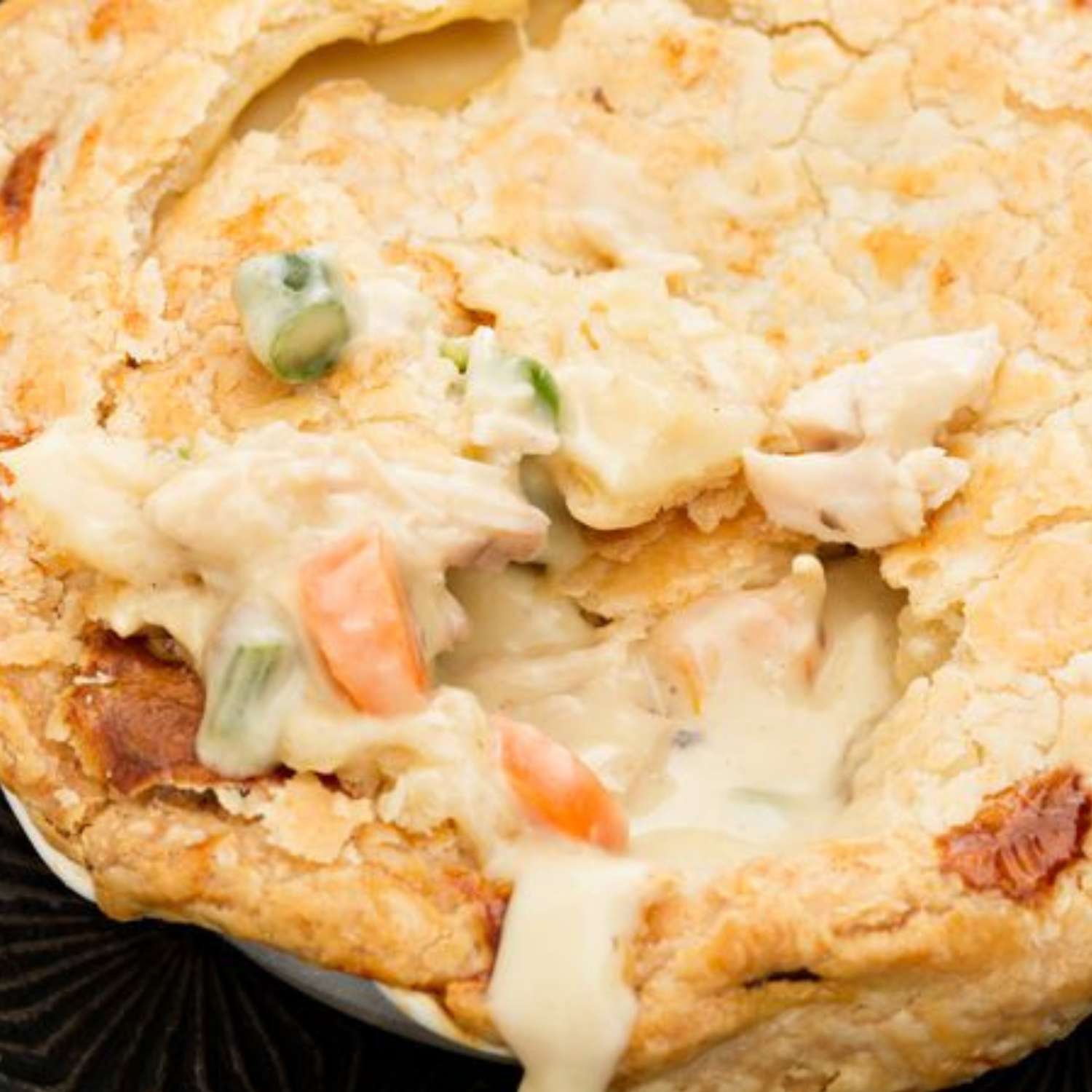 10. Heartburn-Friendly Chicken Pot Pie
This delicious and indulgent Heartburn Friendly Chicken Pot Pie Recipe from Very Well Fit is made from scratch with heartburn-friendly ingredients, including skinless chicken breasts and skim milk. Foods with high fat content are typically the culprit affecting those with heartburn. This low-fat recipe, which highlights the highly digestible proteins included with the chicken, puts chicken pot pie back on the menu. 
11. Healthy Baked Honey Mustard Chicken Breast with Brussel Sprouts
This Healthy One-Pan Baked Honey Mustard Chicken with delicious Roasted Brussel Sprouts from Tammy at Organize Yourself Skinny is a perfect easy weeknight dinner. Of course, you can serve this with rice or quinoa but honestly, I think it's perfect with just the chicken and brussel sprouts. You get tons of protein and fiber which will keep you full and happy for hours.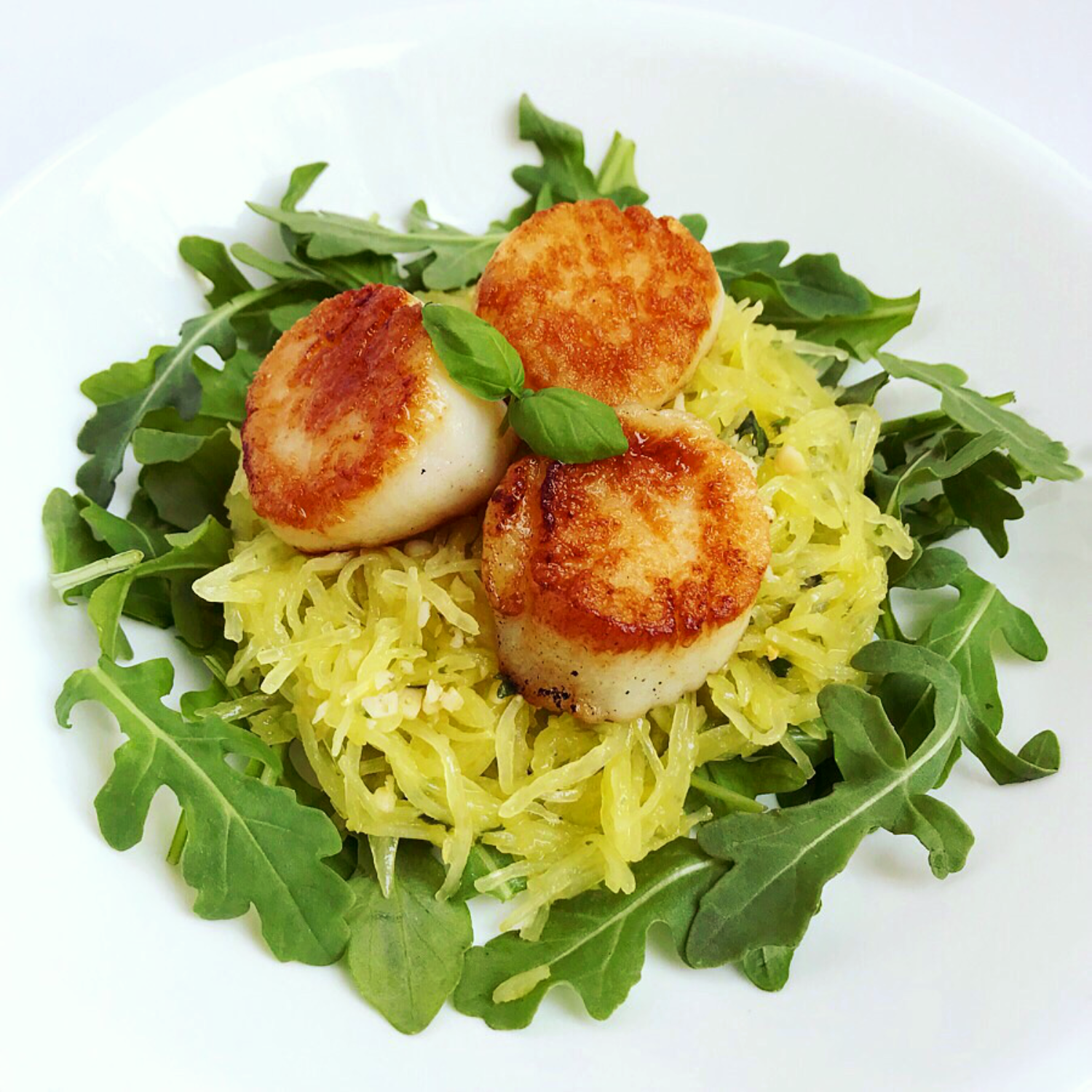 12. Easy Seared Scallops and Spaghetti Squash
This Easy Seared Scallops with Spaghetti Squash is one of my absolute favorite dishes. I love how it doesn't require many ingredients to whip up because the scallops naturally offer an amazing flavor, not to mention a tender, buttery texture. It's so easy to enjoy an upscale meal in the comfort of your own home any night of the week with this simple yet elegant dish.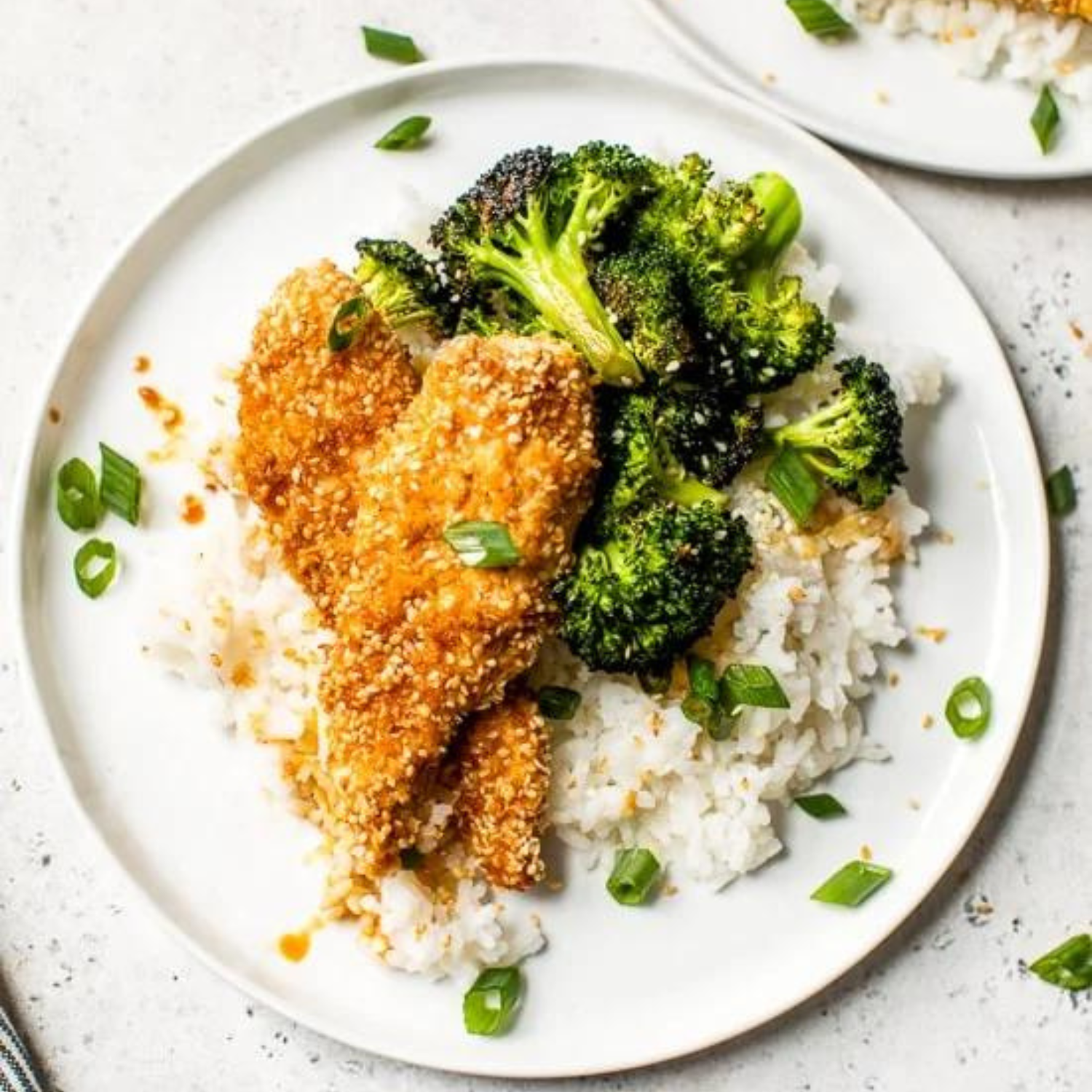 13. Sesame Encrusted Chicken Tenders
Chicken tenderloins are so convenient for weeknight cooking. These Sesame Encrusted Chicken Tenders from Gina at Skinny Taste are coated with sesame seeds, panko, and a dash of soy sauce. You can bake them or make them in the air fryer. Either way, you have yourself a hit on your hands that the entire family will love. Pair with a nice side salad drizzled with our Low Acid Creamy Dressing and a side of Tumeric Rice and you have a complete easy healthy reflux friendly dinner on your hands! 
14. Easy Baked Cod
An Easy Baked Cod recipe from The Roasted Root that is excellent for a healthy, high protein, lean dinner any night of the week. Season it up with your favorite acid reflux approved seasonings for a delicious, nourishing meal! I've made this often and I always leave out the paprika and instead add oregano and thyme. I love to serve it with some sauteed veggies and our delicious Oat Flour Biscuits.
15. Apricot Chicken Thighs with Root Vegetables
I love chicken thighs. They are so hard to mess up! This recipe of Apricot Chicken Thighs with Root Vegetables from Danae at Recipe Runner is a hearty and easy-to-make one skillet dinner. Savory with a hint of sweetness from the apricot jam, it's healthy comfort food at its absolute finest!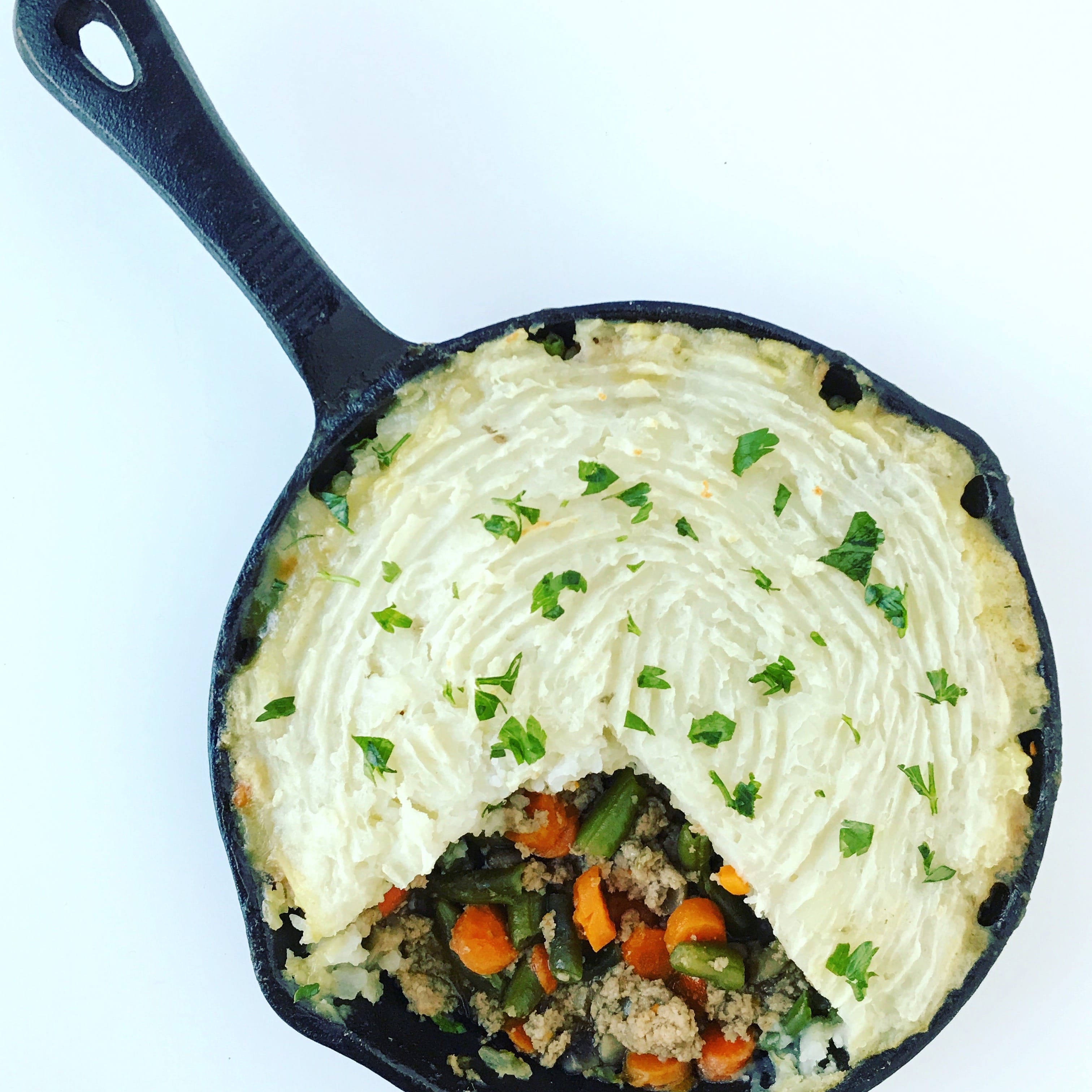 16. Turkey Shepherds Pie (Dairy Free)
This Turkey Shepard's Pie is a spin on the classic comfort food, with a dairy-free twist. It's the perfect meal to add to your weekly menu if you are in search of a recipe that is delicious, healthy, and adaptable.
17. Chicken Congee
Chicken Congee is regarded as the ultimate Chinese comfort food, according to the author Fuchsia Dunlop. This recipe for ji zhou or Chicken Congee, from her book on Jiangnan regional cuisine, is dead simple and satisfying. This is one of my favorites. I make it with homemade bone broth and it does not get easier or more comforting than this!
18. Sweet Potato Puree with Sauteed Brussel Sprouts and Shrimp
This Sweet Potato Puree with Sautéed Brussel Sprouts and Shrimp for Candace at The Wheatless Kitchen is so good. The sweet potato puree is creamy and dreamy and by sautéing the brussel sprouts they get a perfect sear making them extra crispy and delish. It's like a play on shrimp and grits but with a healthier spin that's perfect for any night of the week!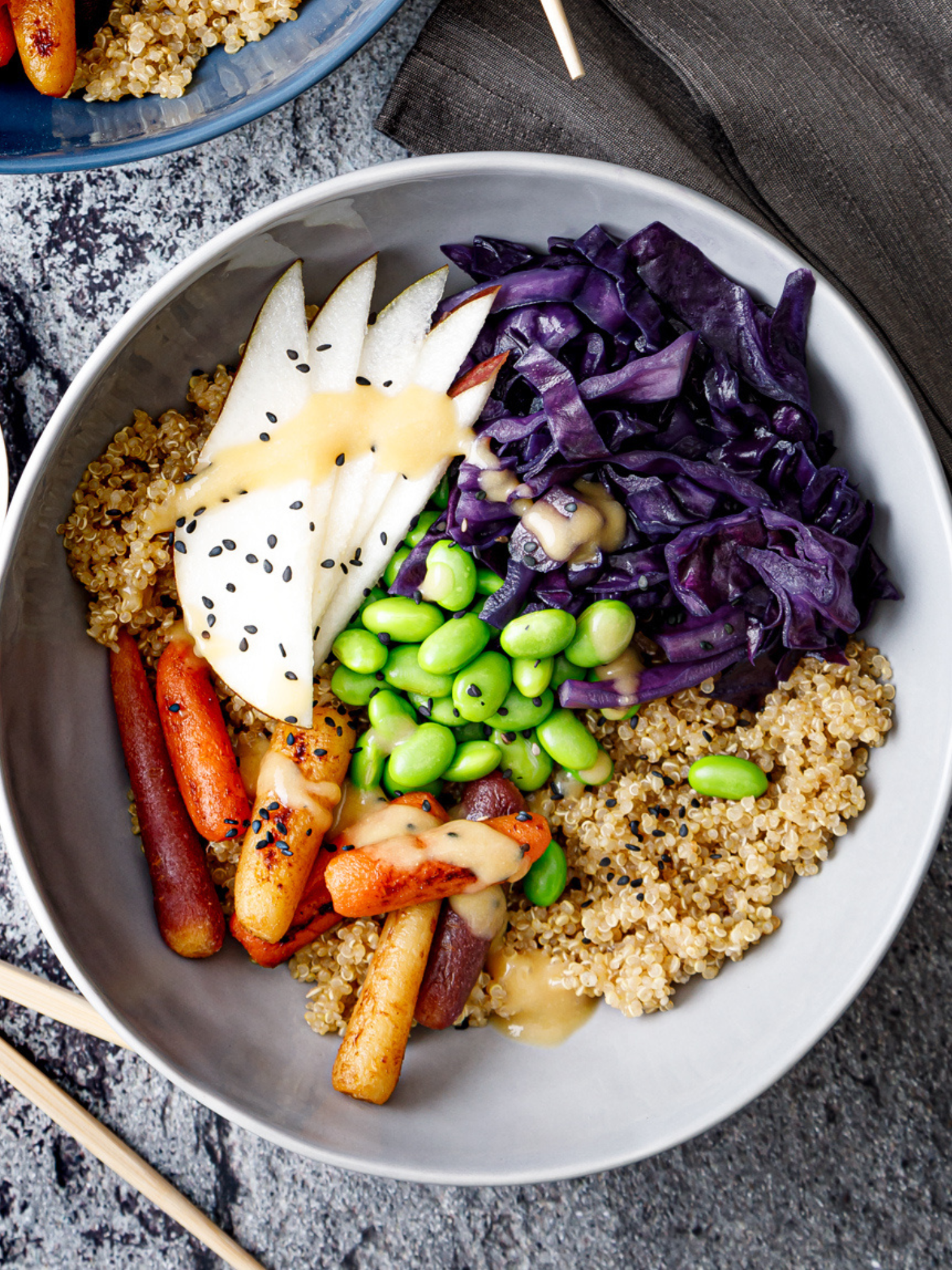 19. Nourishing Quinoa Bowls
Nourishing Quinoa Bowls are one of the simplest and most delicious ways to eat healthy. These one-dish wonders are infinitely customizable and full of flavorful ingredients that nourish your body and soul. In this version, protein-packed quinoa is topped with sautéed cabbage, caramelized carrots, edamame, fresh sliced pears, and toasted sesame seeds. A huge flavor pop comes from a sweet and savory ginger sauce that gets drizzled over top. You cannot beat this easy healthy reflux friendly dinner idea.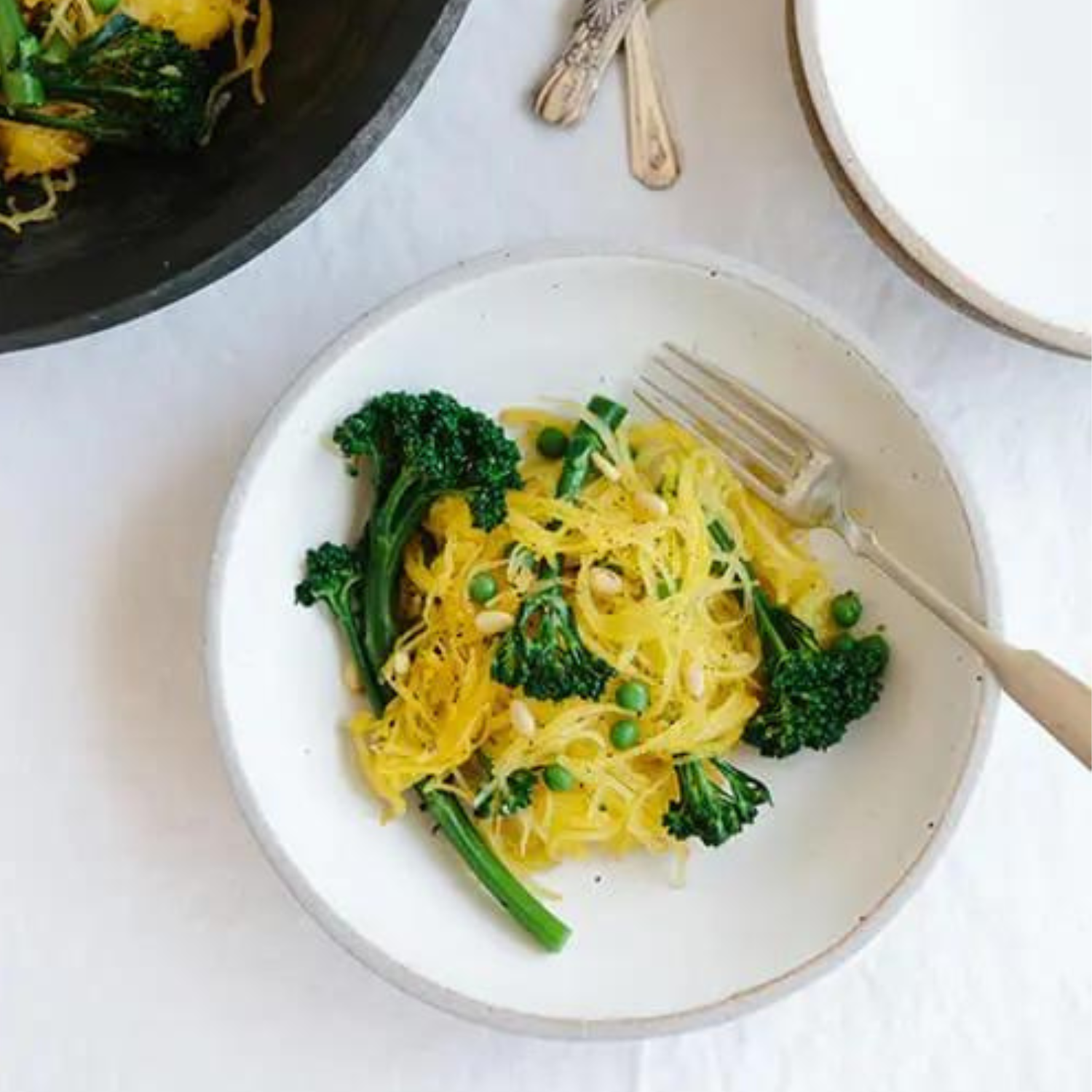 20. Spaghetti Squash with Broccolini and Truffle Oil
This Spaghetti Squash with Broccolini and Truffle Oil from Lisa at Downshiftology is so light and filling. Perfect for a Meatless Monday meal that is light on the stomach but endlessly satisfying. The truffle oil makes this easy dinner for acid reflux feel decadent and very moreish. Though, you could always add some baked chicken to round it out a bit more if desired.

[Disclaimer: There are a few affiliate links in this post. Thanks for your support!]
---
---