30 Easy Healthy Acid Reflux-Friendly Pasta Recipes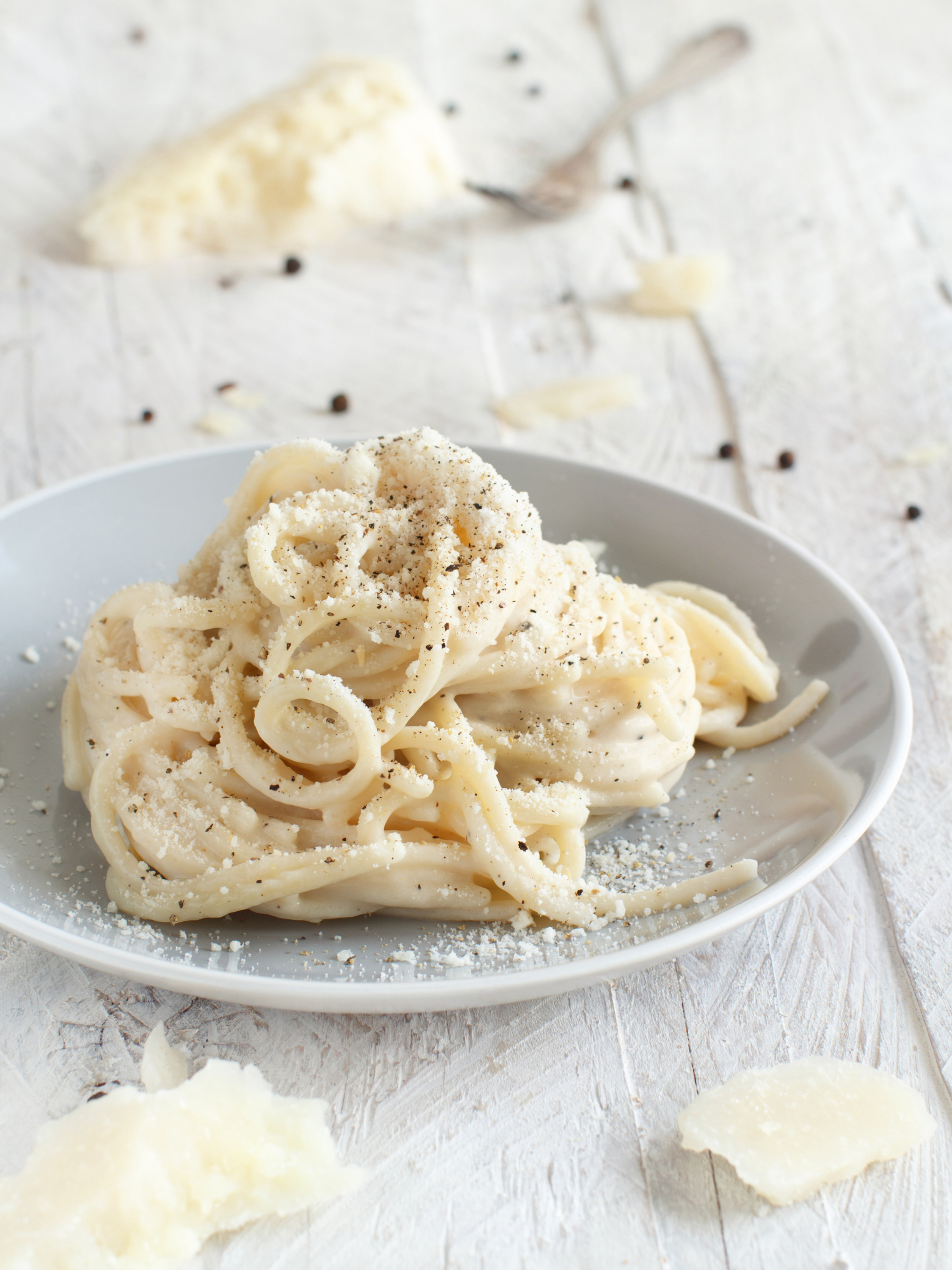 Suffering from acid reflux shouldn't mean you compromise on flavor. Our collection of easy healthy acid reflux-friendly pasta recipes lets you relish delicious meals without triggering GERD symptoms.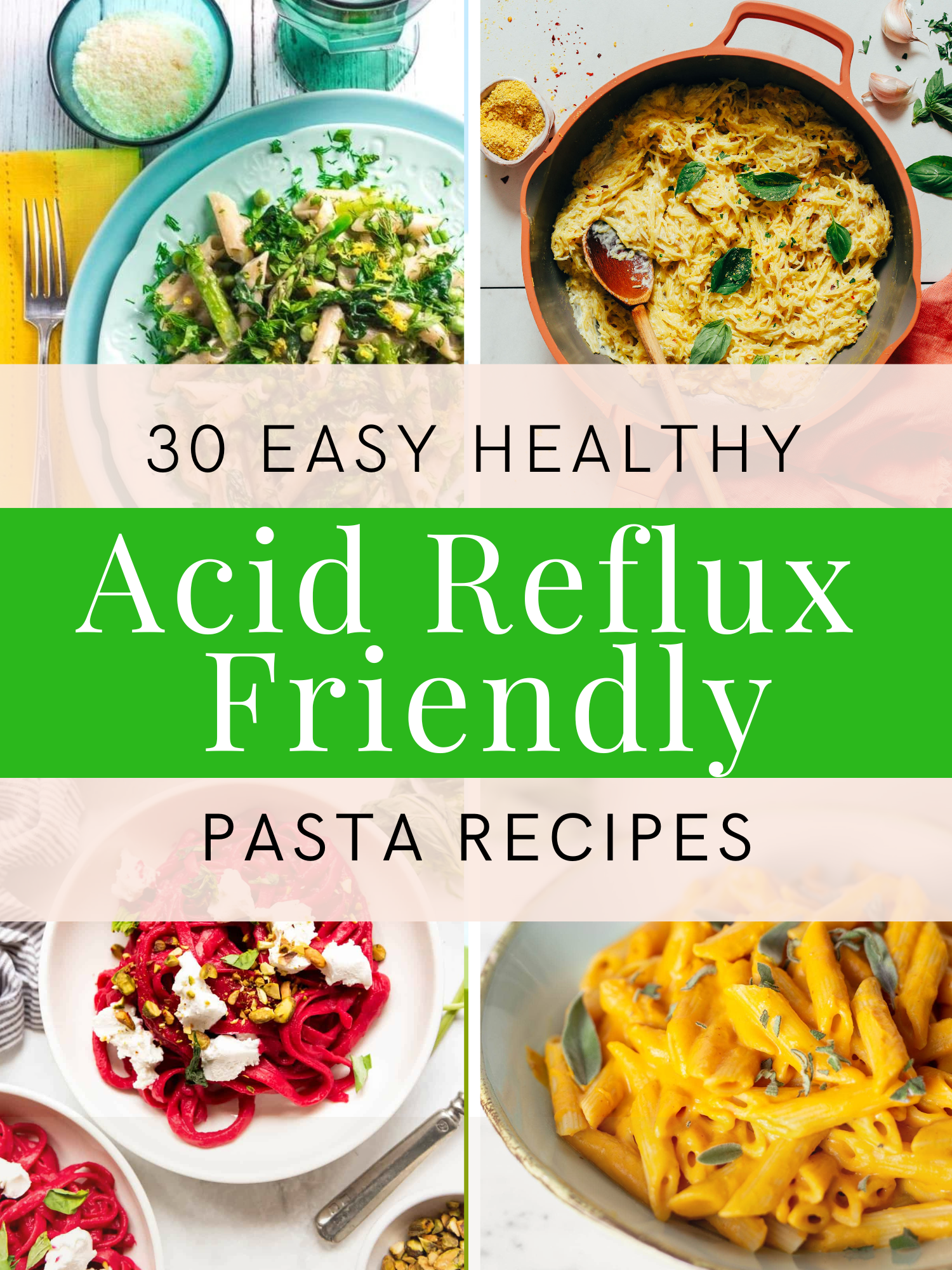 We understand that dietary adjustments, mainly due to medical reasons, can be daunting. But with the right recipes, such as these easy healthy acid reflux-friendly pasta recipes, you'll be amazed at how effortless and delicious it can be.
Easy Healthy Acid Reflux-Friendly Comfort Food
Pasta – a staple that's adored worldwide.
Nothing says comfort like a big bowl of delicious pasta. We have curated a list of 30 easy healthy pasta recipes and added some modifications to make them acid reflux-friendly! From reimagined classics like Alfredo and Cacio e Pepe to global inspirations like Pad Thai, each dish is light, creamy, and comforting.
An Essential Guide: Best and Worst Foods for Acid Reflux
When dealing with GERD it can be especially tricky because there isn't a one size fits all diet. That can make your diagnosis and symptoms feel extra frustrating.
From our own journey with healing reflux, research, and our community here, we've honed in on ingredients that are most beneficial for those battling acid reflux. And, those foods that are best left out, at least while you learn your triggers and your own body.
For your convenience, we offer a free printable guide detailing the best and worst foods for acid reflux. Keep this close in your kitchen, making meal planning more streamlined and your journey to comfort more attainable.
Download your FREE printable Best and Worst Foods for Acid Reflux
Knowing Your Acid Reflux Triggers
Every individual's experience with acid reflux is unique. While our recipes are generalized to avoid common triggers, it's essential to identify what specifically aggravates your symptoms. Maintaining a food journal can be insightful, noting your meals, timings, and any subsequent discomfort.
Tailoring Easy Healthy Acid Reflux-Friendly Pasta Recipes
It's rare to find pasta dishes devoid of tomatoes, onions, cheese, lemon, and garlic – notorious for triggering reflux. Our selected recipes minimize these, but occasionally we have to get creative. Here's how to adapt:
Garlic: Opt for garlic powder or garlic-infused olive oil. If these are still problematic, spices like Mrs. Dash or seasoned salt can be your go-to.
Ricotta & Parmesan: Dairy-free alternatives like Kite Hill's ricotta or vegan Parmesan cheese can be a great fit.
Gluten Concerns: If gluten exacerbates your GERD, switch to gluten-free pasta.
By "easy," we promise recipes that are straightforward, quick (under an hour), and made from accessible ingredients. Any extended prep, like roasting or sauce-making, can be done ahead of time.
Finally, our curated list of easy healthy acid reflux-friendly pasta recipes is more than just a compilation—it's a way to reclaim your love for food. Dive in, experiment, and enjoy the culinary journey sans the burn.
Easy Healthy Acid Reflux-Friendly Pasta Recipes
We are a participant in the Amazon Services LLC Associates Program, an affiliate advertising program designed to provide a means for us to earn fees by linking to Amazon.com and affiliated sites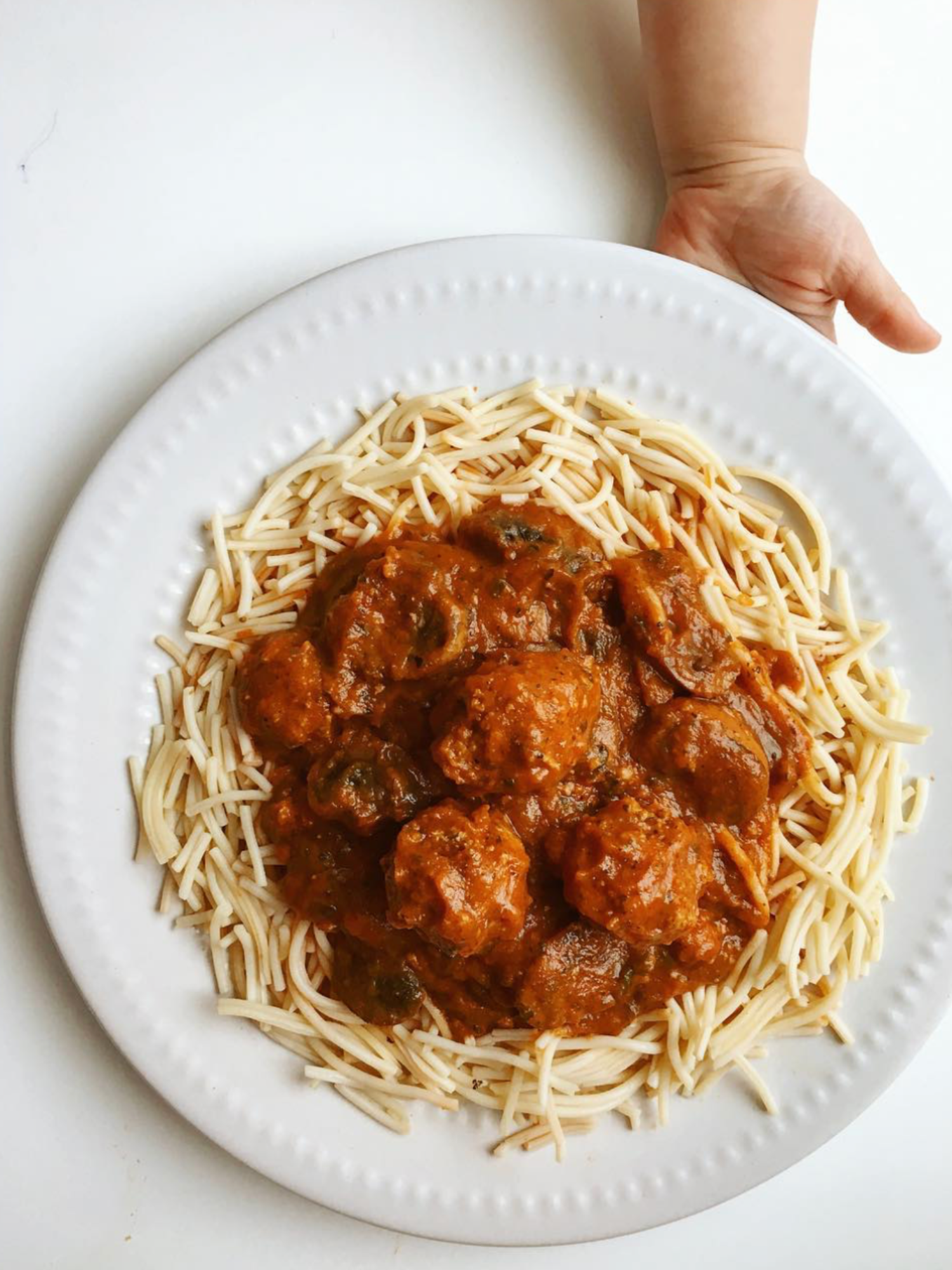 Living with GERD, you quickly learn that tomatoes and pasta can be a tricky combo. But our Nomato Sauce? Total game-changer. This easy healthy acid reflux-friendly pasta recipe gives you all the cozy feels of a classic red sauce, minus the discomfort. Trust me, once you try it, it'll become a kitchen staple.
Consider this Cashew Alfredo from the Minimalist Baker the only vegan alfredo sauce you need. It's the perfect dairy-free alternative to classic Alfredo sauce! Plus, just 7 ingredients and 30 minutes required.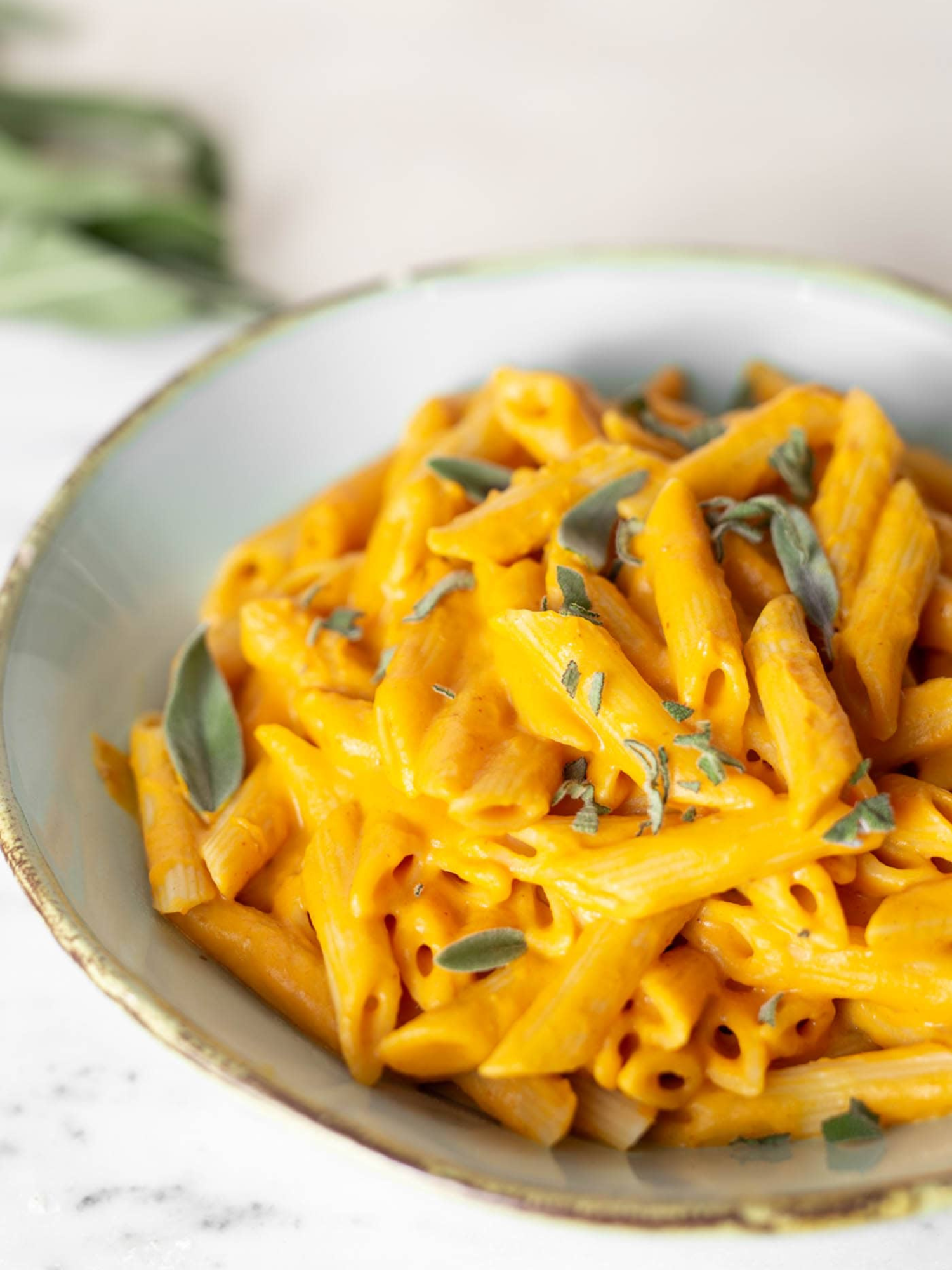 This easy healthy acid reflux-friendly vegan pumpkin pasta recipe from Running on Real Food takes only 20 minutes before it's ready to be served. A simple plant-based meal that's pure comfort food.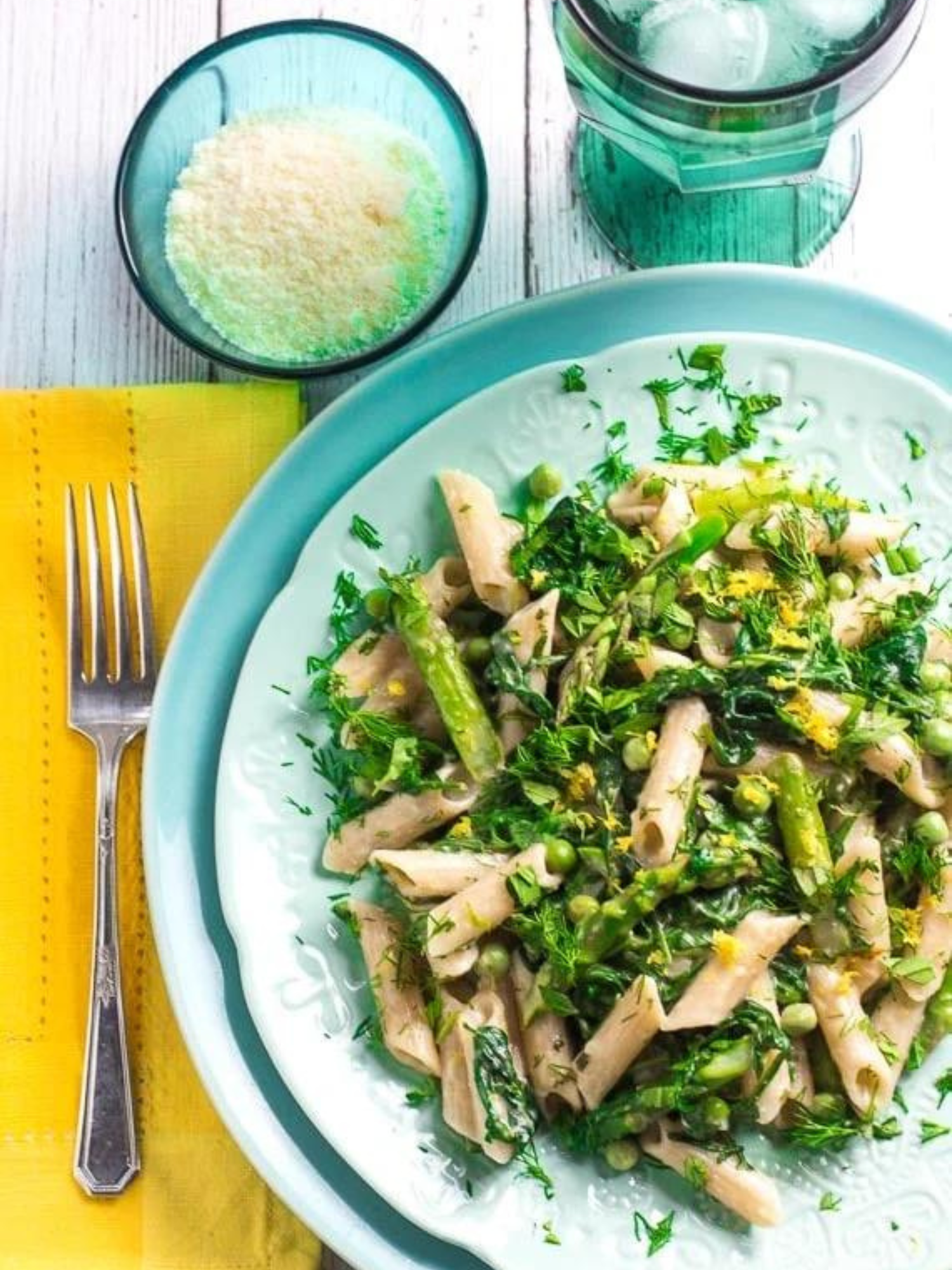 This Low FODMAP Pasta Primavera from FODMAP Everyday is made in one pan and features gluten-free penne, loads of fresh arugula and spinach, chives, asparagus, peas, fresh herbs, and parmesan. Simply leave out the chives and omit the lemon juice if needed.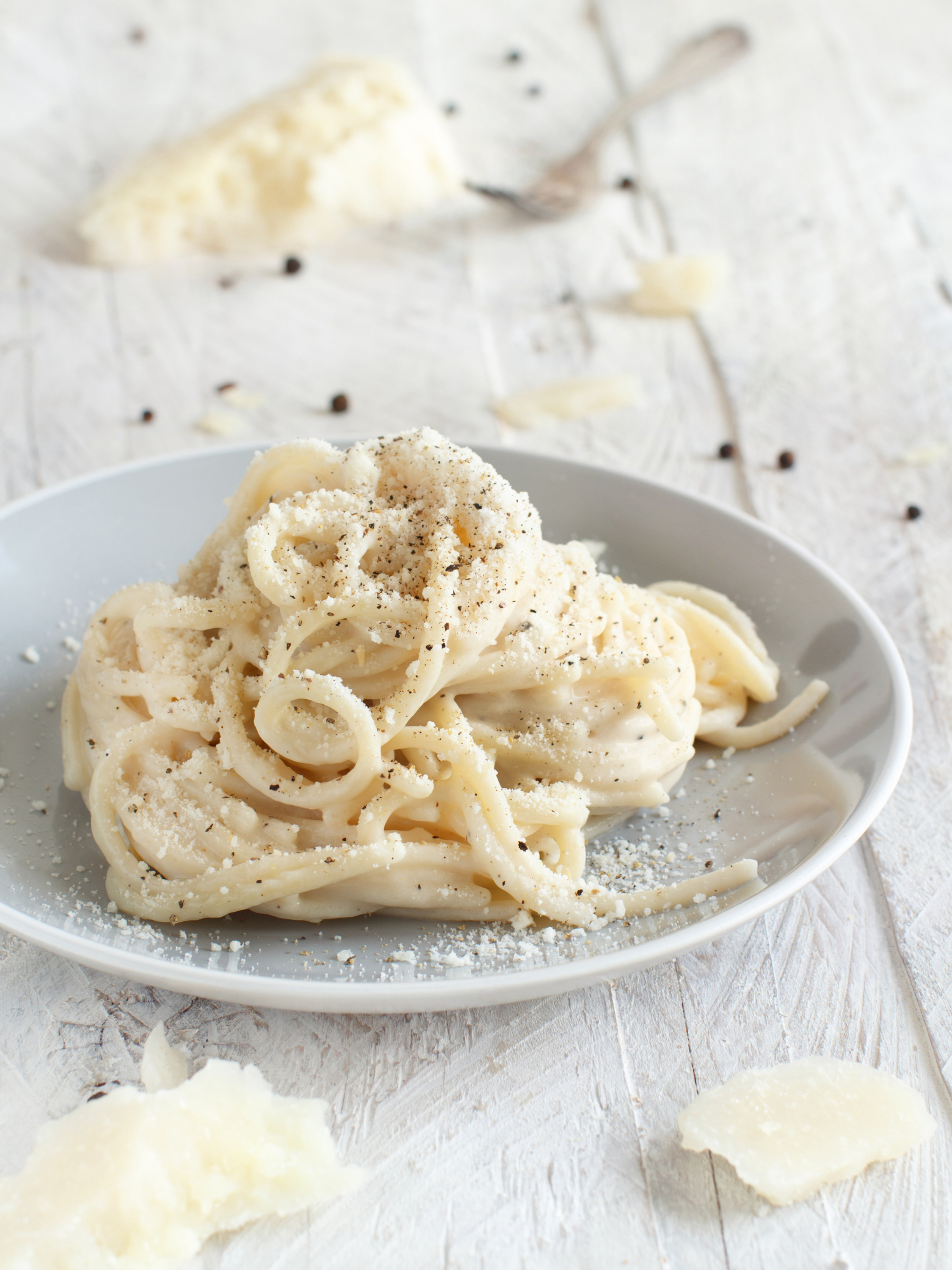 Why You Should Make This Easy Healthy Acid Reflux-Friendly Pasta Recipe:
It is simple. Using only 6 ingredients, including the pasta, that you likely already have on hand at home, this gluten-free cacio e pepe by Pretty Delicious Life could not be any simpler to make.
It is fast. In addition to simple ingredients, this dish comes together in just 30 minutes, making it perfect for a last-minute weeknight meal.
It is a crowd pleaser! Whether you're making this for yourself or a whole crowd, everyone is sure to love this gluten-free cacio e pepe!
Straining pasta has never been easier with this top-rated colander from Amazon—designed to make draining quick and efficient, so you can jump right into enjoying your easy healthy acid reflux-friendly pasta recipe.
Craving a twist on the classic? Our Vegan Spinach Pesto Pasta delivers. This easy healthy acid reflux friendly pasta dish brings together the creamy goodness of vegan pesto with nutrient-rich spinach. It's a refreshing take that'll quickly become a favorite in your GERD-friendly recipe rotation.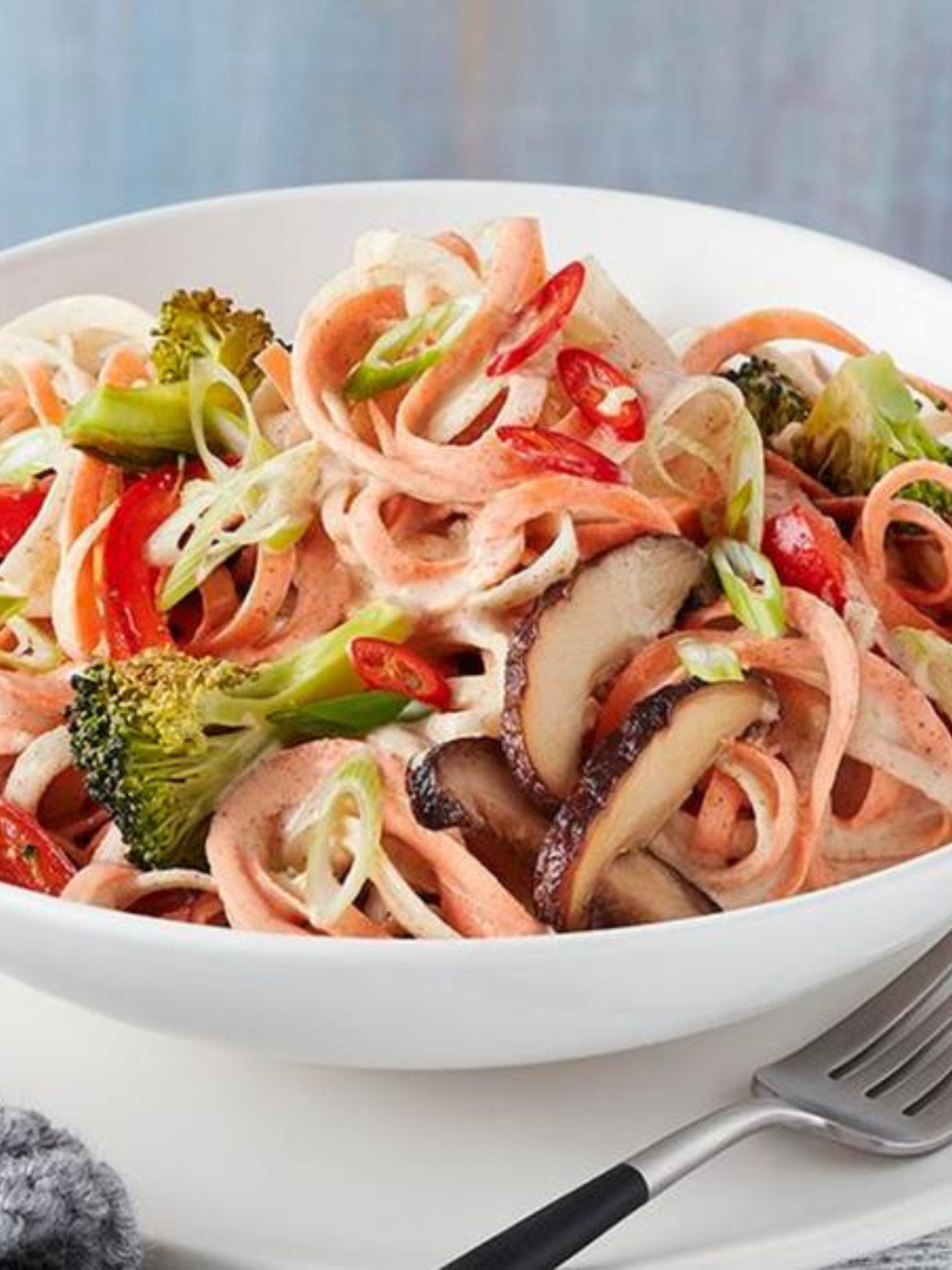 Quick to cook, filled with fresh ingredients, and chock-full of key nutrients, these Sesame Turnip Noodles with Broccoli & Mushrooms from Clean Eating are kind of hard to top. Creamy and nutty, this vegan meal is one you'll want to eat again and again.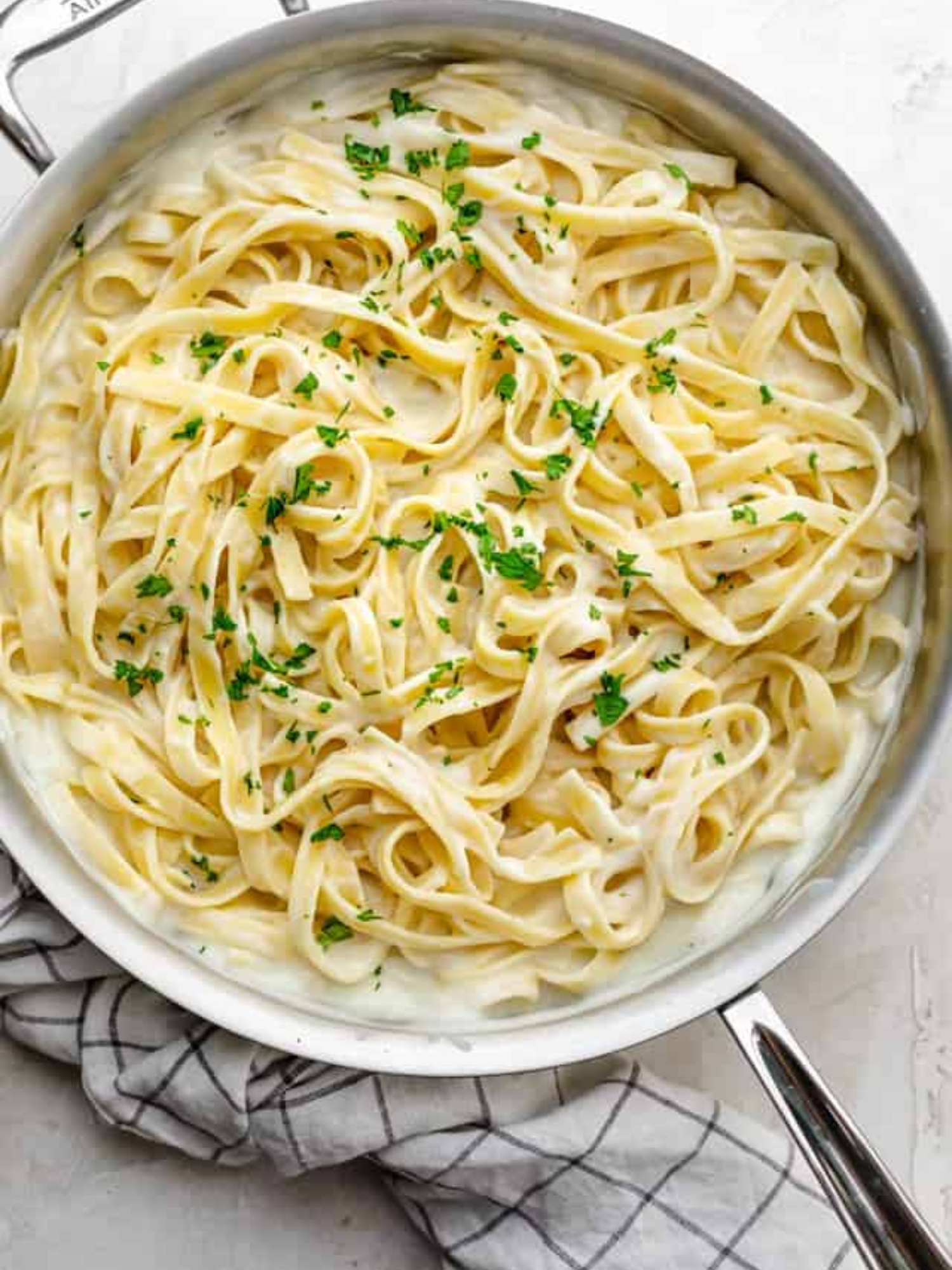 If you're searching for a vegan replacement creamy Alfredo sauce, you will love this Cauliflower Alfredo sauce from Feel Good Foodie! It comes in at just 70 calories a serving and 5 grams of fat. Since it's naturally gluten-free, dairy-free, and nut-free, it's a great swap for many different dietary restrictions. Use it with pasta, chicken, vegetables, or even pizza to add a rich creamy sauce without all the fat and calories!
This Spaghetti Squash Chicken Chow Mein from Unbound Wellness is simple to make on a weeknight or meal prep for the week as leftovers. It's packed with veggies and features protein and healthy fats to make it a complete, whole meal. Plus, it's AIP, Paleo, and Whole30 compliant all while being a fun throwback for a takeout favorite.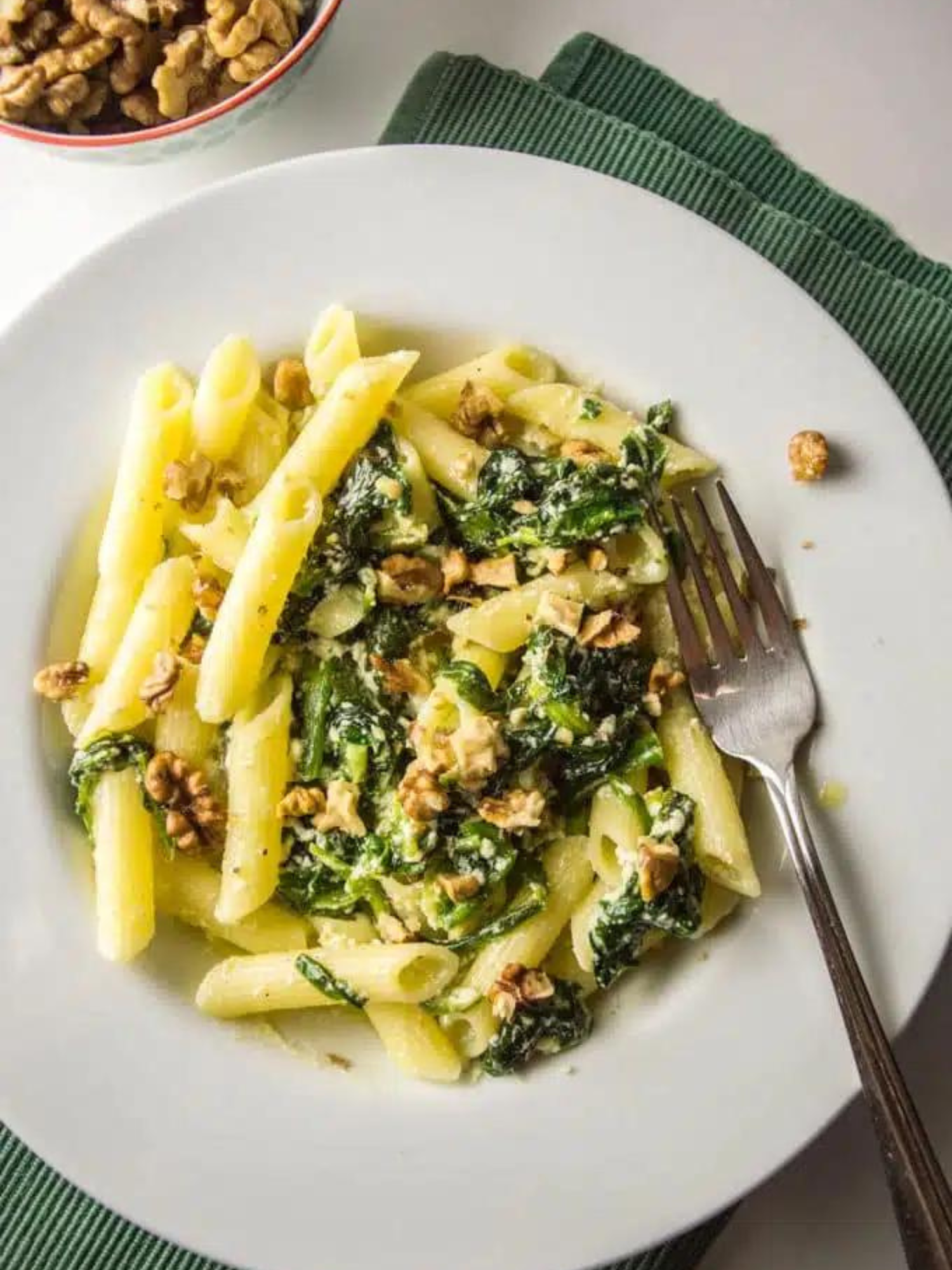 Check out this Low FODMAP Creamy Spinach and Ricotta Pasta with Walnuts from My Gut Feeling. Make yourself this healthy and tasty low FODMAP dish in less than 15 minutes! This is definitely one of my favorite pasta dishes and it's pretty versatile too.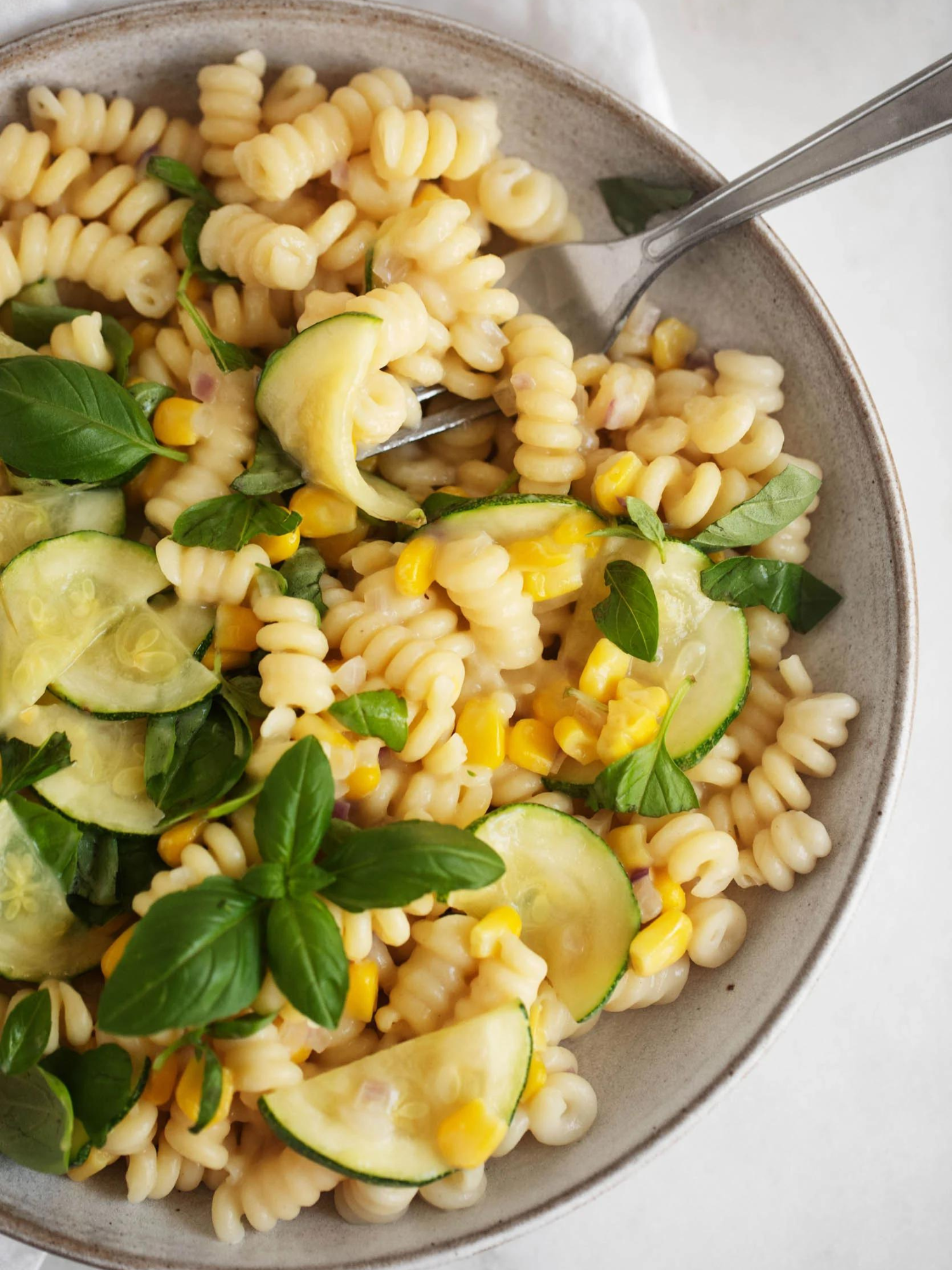 This creamy zucchini corn pasta from The Full Helping is the perfect pasta dish for late summer! It features sweet corn, tender sautéed zucchini, and a cream sauce that's totally dairy-free! It's fresh, vibrant, and easy to make.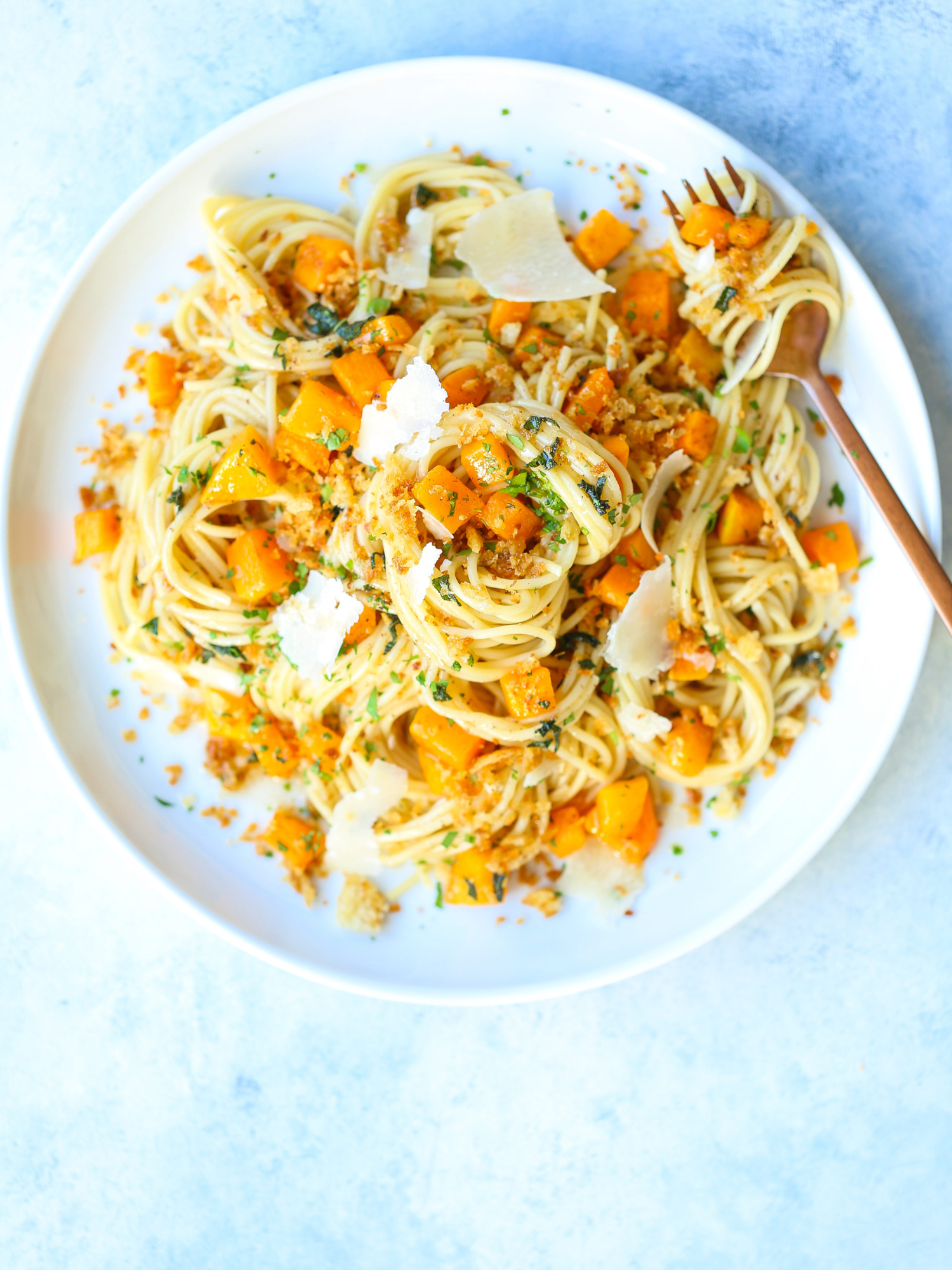 My favorite fall/winter pasta recipe! This Brown Butter Butternut Squash Pasta from Damn Delicious is loaded with sautéed butternut squash, thyme + sage. It's also almost too easy to make!
This Bacon Herb Paleo "Pasta" Salad from The Curious Coconut tastes great chilled or hot and makes the perfect portable meal for a picnic or for work. Add in some leftover chicken for a protein boost if you like!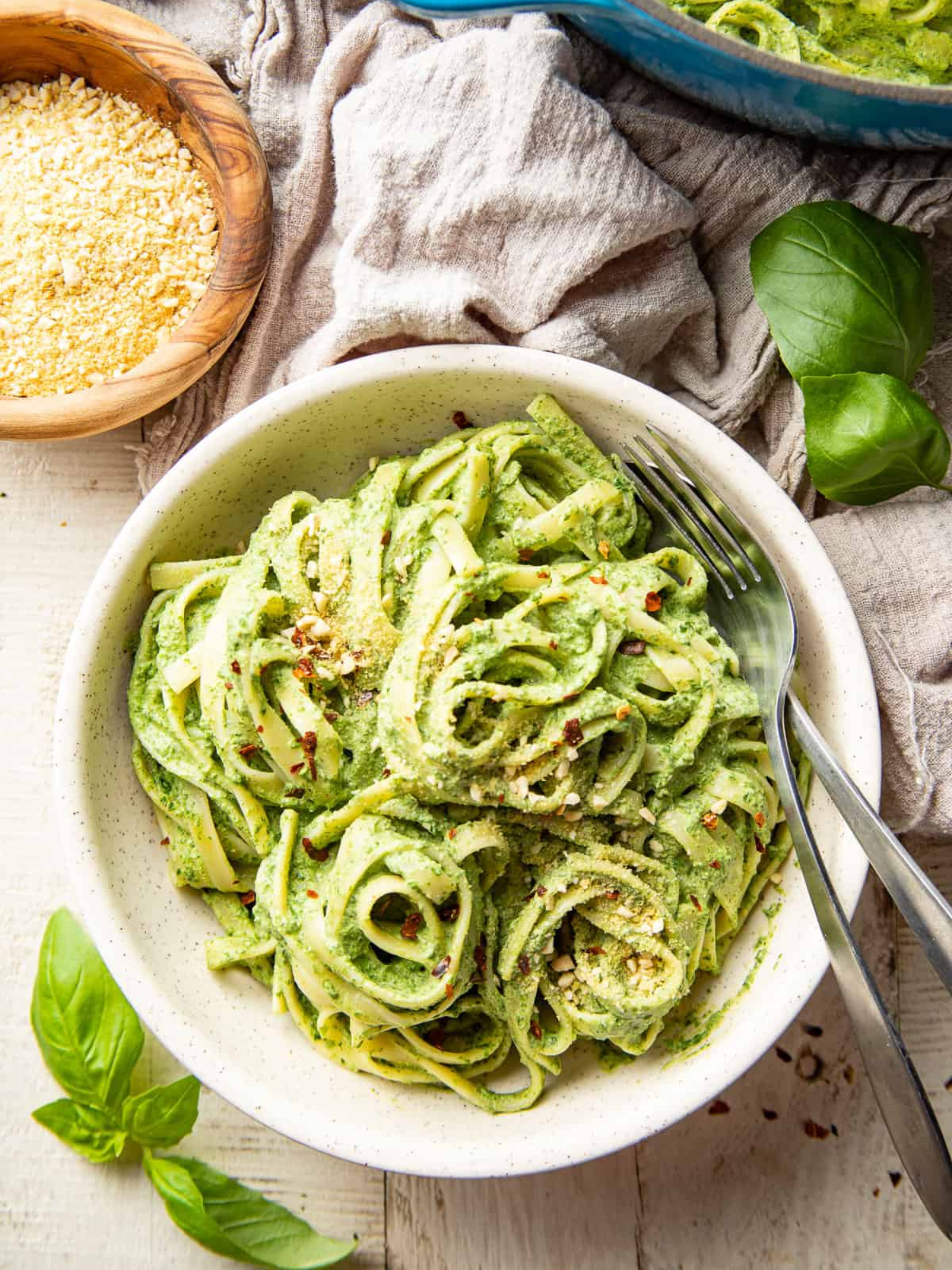 This vegan spinach pasta from Connoisseurus Veg is made with a rich and creamy dairy-free sauce with hints of garlic and basil. It's deliciously comforting and so easy to make! The sauce is pretty close to what you might get with a vegan fettuccine Alfredo, with a touch of basil and LOTS of spinach. Very good!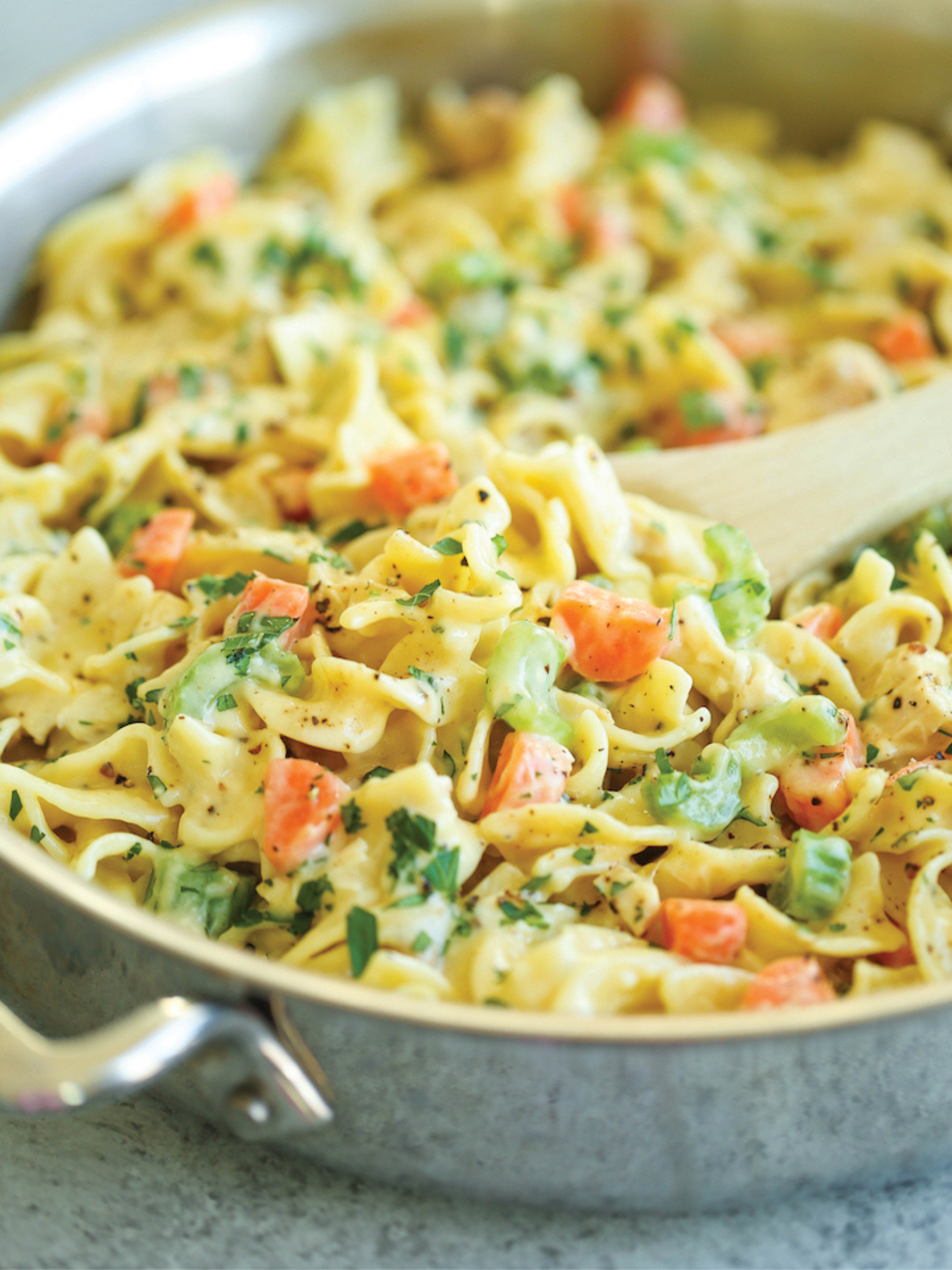 This Creamy Chicken Noodle Pasta from Damn Delicious is like everyone's favorite chicken noodle soup except in creamy, melt-in-your-mouth pasta form! It's seriously AMAZING.
Upgrade your pasta game with this must-have pasta fork—perfect for twirling your favorite easy healthy acid reflux friendly pasta recipes into delicious, mess-free bites. Grab yours on Amazon now!
This easy healthy acid-reflux-friendly pasta recipe from Foodaciously is prepared with flaked seared salmon and a no-dairy cream of peas. Ready in under 30 minutes, it's a nutritious meal that packs proteins, fibers, and precious omega-3.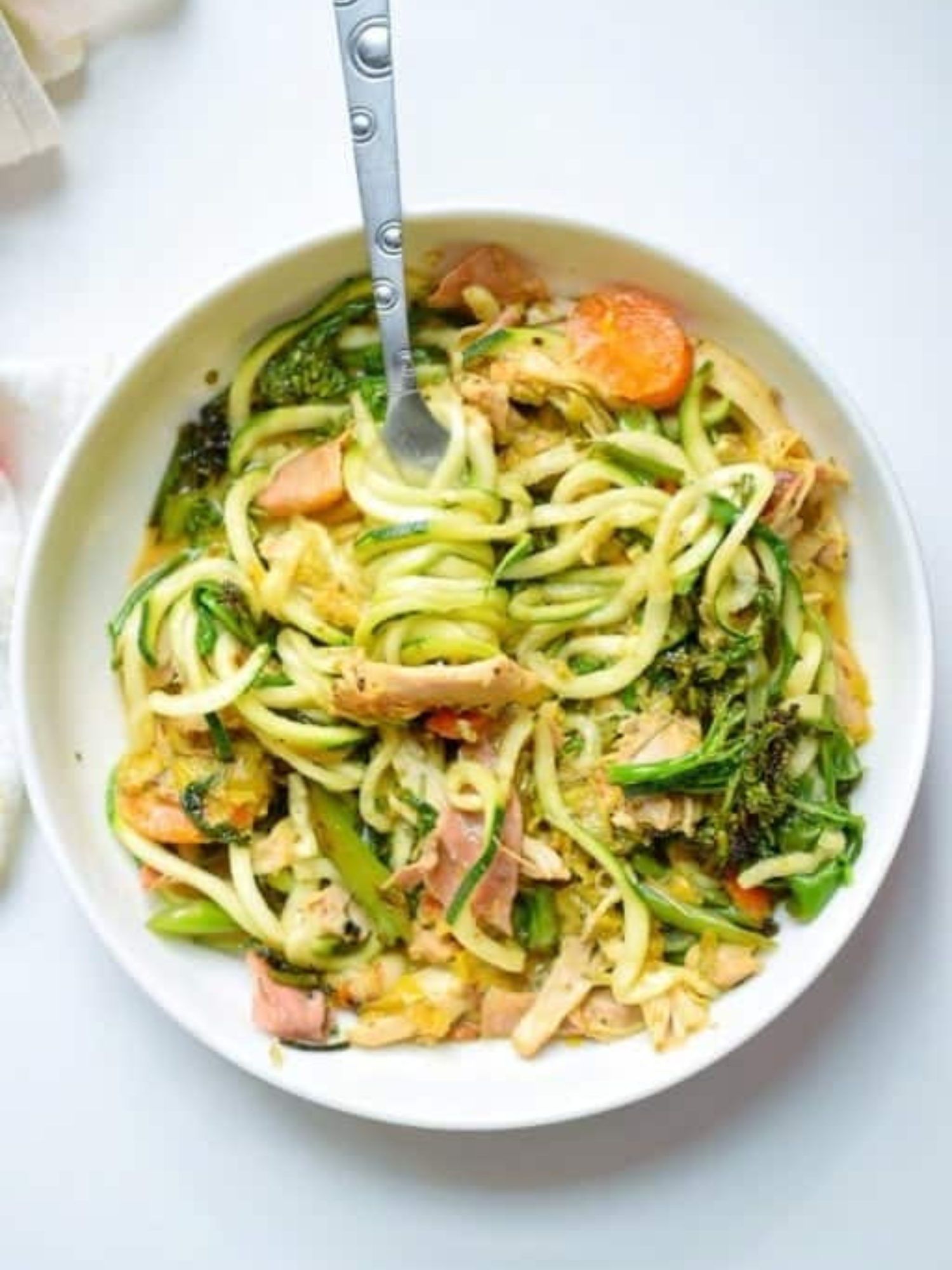 This pasta recipe from The Castaway Kitchen is so clean and yet absolutely delicious, it's comforting. Pressure Cooker Cheesy Chicken and Zoodles! In the pot goes vegetables and chicken and when it's done, shredded and lightly cooled… You have tender meat in a thick, yellow, CHEESY sauce!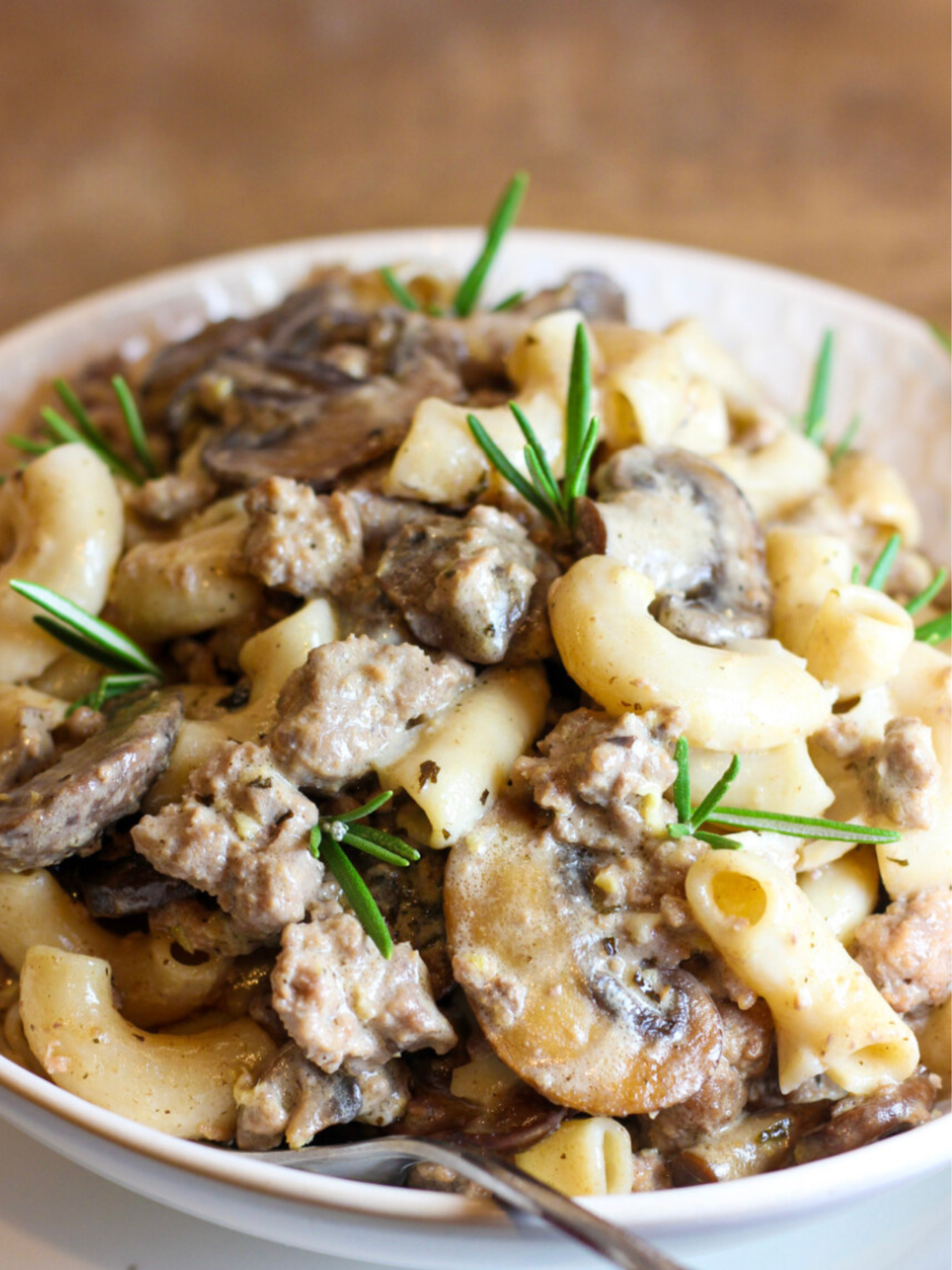 Paleo AIP Hamburger Macaroni Pasta from Eat Beautiful is made in one pot and is an easy 30-minute meal that the whole family will love. Super creamy, full of ground beef and it's great to have for leftovers too! Plus, it's Low-FODMAP. For me, this is one of the best comfort food dinners!
The vibrant pink hue of this viral TikTok Beet Pasta Sauce from House of Nash Eats is all-natural and super flavorful thanks to fresh roasted beets! Paired with perfectly al dente fettuccine pasta, rich goat cheese, crunchy pistachios, and hand-torn fresh basil leaves, this easy healthy acid reflux friendly pasta recipe is worth the hype!
Healthy Chicken Ramen Bowls from Super Healthy Kitchen is super simple to make! You only need one pot and about 20 minutes. cook time. Before you know it you'll be slurping up this flavorful soup with tons of noodles, healthy veggies, soft-set eggs, and a dash of sesame oil.  It's an easy healthy acid reflux-friendly pasta recipe you don't want to miss!
This easy healthy acid reflux-friendly pasta recipe from A Balanced Belly is a much easier-to-digest, gluten-free Pad Thai recipe that I make time and time again. It uses gluten-free soy sauce, courgettes instead of bean sprouts, and peanut butter (which for many is easier to digest than raw peanuts). Tons of variations and included, I know you're going to love this one!
This quick and easy shrimp with pasta recipe from Very Well Fit takes just 25 minutes to prepare from start to finish. Combining shrimp with other low-fat ingredients makes this a shrimp and pasta recipe that even people who experience heartburn can enjoy since foods high in fat are known causes of heartburn.
It's a perfect candidate for a busy weeknight dinner or, with a salad and baguette of crusty bread, it can easily transition into a company-worthy meal.
This creamy Avocado Pasta from Well Plated is a riot of green abundance and the breath of fresh air we all need on our plates this week. It's creamy and nutritious, and you can top it with fresh herbs, and add other veggies, and you'll look forward to the leftovers the next day.
Delicious cozy cream cheese pasta from The Clever Meal is ready in 10 minutes. This super easy and cheap pasta recipe makes the perfect midweek last-minute meal. Comfy and filling, it comes together in a flash, and the whole family will love it!
Rich and fatty foods and foods with garlic, onions, and certain spices, can trigger heartburn in some people. This higher-fiber macaroni salad from WebMD features a low-fat and lightly seasoned dressing. You can easily add additional ingredients as tolerated.
Serve up your easy healthy acid reflux friendly pasta recipes in style with these elegant pasta serving bowls from Amazon—because every great dish deserves a beautiful presentation.
This Sweet Potato Gnocchi recipe from Heal Me Delicious is made using just three ingredients for a simple and delicious treat that is AIP, paleo, vegan and so comforting!
One of my favorite ways to eat this easy healthy acid reflux friendly pasta recipe is pan-fried in olive oil with homemade pesto. You could also toss in classic nomato sauce, or fry them in the air fryer for a crispy snack or appetizer!
After finding out you have issues with Acid Reflux, Heartburn, Gastritis, GERD, ulcers, or any acid-related health issue, you may have a hard time figuring out what you can eat without having a flare-up. Well, there's good news!
This easy healthy acid reflux-friendly Pesto Chicken Spaghetti from Medium.com is sure to satiate your craving for an indulgent Italian pasta dish without making you suffer the consequences for the rest of the day.
Looking for an Asian flair in your easy healthy acid reflux friendly pasta recipes? Try the Miso Kelp Noodle Pot from Goop. With a splash of tamari and a dollop of miso, you get an instant soup base that's both flavorful and GERD-friendly. Toss in your favorite mix of raw and cooked veggies, and you've got a comforting meal that's easy on the stomach.
If you're looking for a lighter way to indulge in cheesy alfredo pasta, look no further than this 8-ingredient spaghetti squash pasta from Minimalist Baker. It's easy to make and features a creamy,  and (undetectably) vegan alfredo sauce.
When I make this recipe, I always leave out the garlic and add extra fresh herbs to punch up the flavor!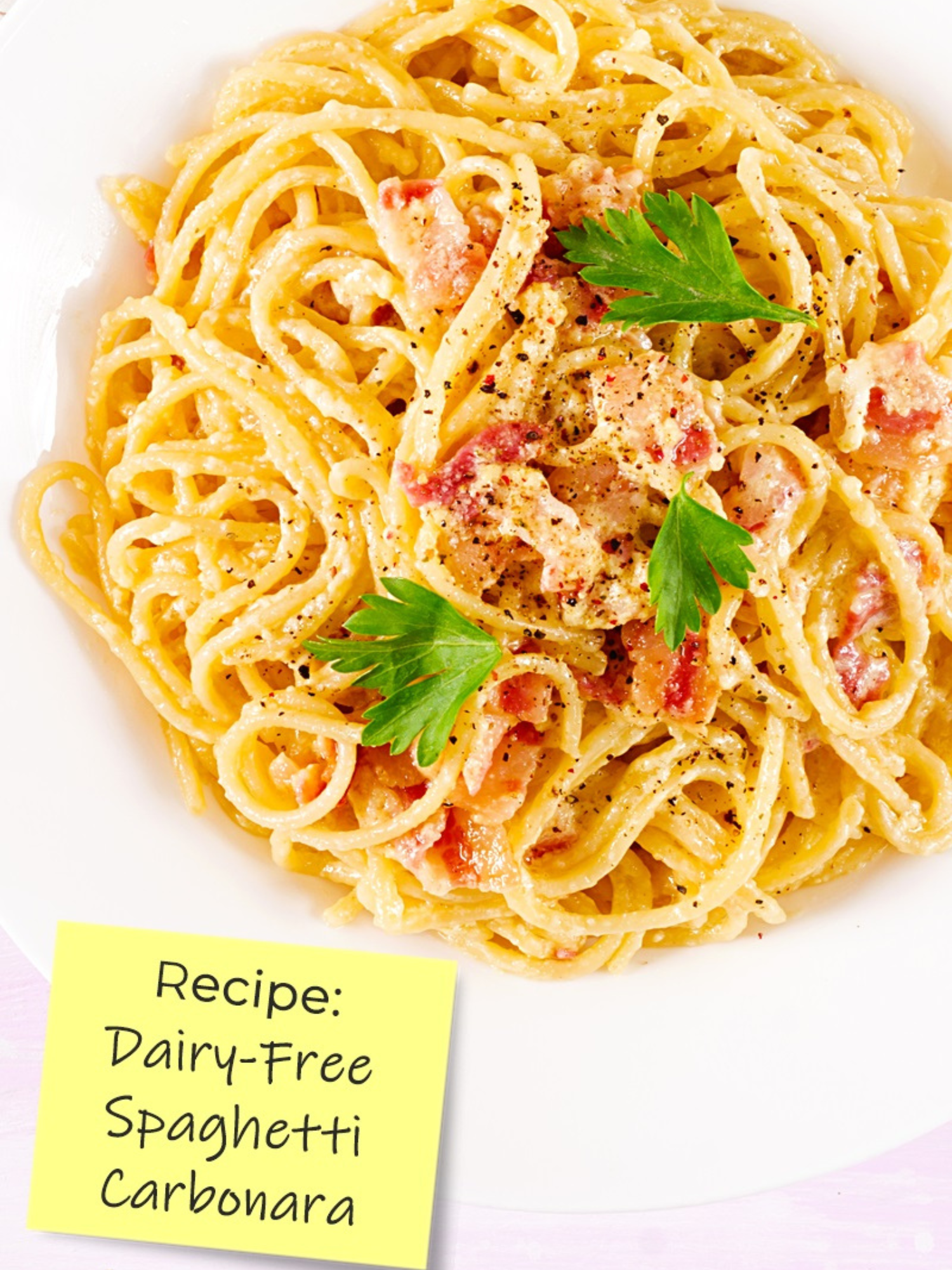 When you need a dish that impresses, make this dairy-free spaghetti carbonara from Go Dairy Free. It's one of those pasta dishes that takes minutes to make, especially with practice and tastes like it's straight from an Italian restaurant kitchen. It's rich, flavorful, and has that umami that so many of us crave.
More Easy, Healthy, Acid Reflux-Friendly Roundups:
Easy, Healthy, Acid Reflux-Friendly Dinner Ideas
5 Easy, Healthy, Acid Reflux-Friendly Weeknight Dinner Ideas
5 Healthy Spring Detox Dinners
10 Instagram Famous Healthy Wrap Ideas
9 Quick and Healthy Reflux-Friendly Summer Dinner Ideas
10 Easy, Healthy, Reflux-Friendly Breakfast Ideas
Easy, Healthy, Acid Reflux-Friendly Snack Ideas
---
---